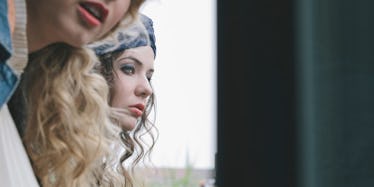 This Is The Best Way To Answer 'Where Do You See Yourself In 5 Years?'
Anytime an interviewer asks, "Where do you see yourself in five years?" you can't help but feel a little blindsided.
It was so much easier back in high school.
You could say you planned on attending and graduating from an incredible university.
Right now, you have no idea what's in the future five years down the line, or even what you want to be doing.
You're just hoping you can get a job somewhere.
Not everyone knows the answer to this question.
Try talking to even the most experienced professionals, and you'll encounter at least one who feels he or she hasn't quite found the dream career path.
The good news is, you don't need to know what your dream job is in order to answer this question.
In fact, you can start your answer by evaluating a simple consideration: What makes you feel happy and fulfilled?
The answer to this question is coincidentally (and conveniently) the same thing you enjoy doing.
Think back to your college classes, your internship experience and your hobbies.
What do your professors, former employers and friends always compliment you on?
What's been your favorite thing to learn about or work on over the past couple of years?
For example, let's say you love working on logic problems, or enjoy tackling difficult problems in your economics class. You've been praised as an out-of-the-box thinker.
Your response to the question will start something like this: "I hope to be well-situated in a career that fully utilizes my creative problem-solving skills."
The next step? Relate this back to the job you're interviewing for.
Companies not only want to know you have goals, but also that the company fits into those goals. With this in mind, list out your qualities, and follow up with a, "that's why I'm drawn to this role, in particular."
Then, give a few examples of how the role utilizes the very qualities that fit into your five-year plan.
It's helpful to think of several different, fulfilling qualities that are translatable across a lot of different fields, like having strong communication skills, or the ability to think clearly and quickly under pressure.
You'll be going on a lot of different interviews in a variety of industries, especially as you try to figure out the right career path for you.
Because of this, you may not want to talk about your on-the-pulse pop culture knowledge in a corporate interview, or your ability to thrive in a structured, traditional environment with a growing startup.
So, be genuine, but tailor your response to each job.
List out the things that make you feel fulfilled, and do your homework on each role you're applying for.
That way, no matter who you're talking to, you'll feel great about talking about your future five years from now.
This article was written by Kema Christian-Taylor for WayUp.