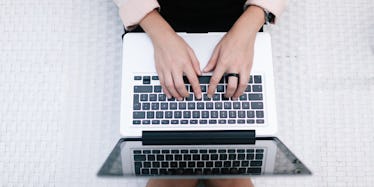 3 Things You Should Immediately Do After Getting Your First Job
That's it kids, commencement is over and your diploma is in hand. After celebrating for a few days, you'll eventually have to face the reality of finding work and entering the spooky world of adulthood.
If you're lucky, you may have secured a decent position from a job fair or past internship.
Once you're in the door, however, you could get lost wondering what the next steps should be beyond getting a gym membership to work off that influx of college weight. Here are three things you should immediately do after getting your first job.
1. Set up a 401k account
When you're signing on the dotted line of your first real-world job with a salary, you're going to come across some benefits that perk up the offer. Some companies will provide reimbursements for continuing education in a specific field, while others may cover travel expenses if you're commuting from a good distance away.
But, if your employer offers up a matched 401k account, you shouldn't even hesitate to sign up and start shuffling funds into it. When they match your contributions - typically up to 5 or 7 percent of your pay - you're already securing your retirement at an early age. While the overall growth of your funds will ultimately depend on the institution your employer uses, it's solid peace of mind knowing you're planning early for long days spent golfing in Florida and wearing Velcro sneakers.
Sometimes, your employer won't offer a 401k match because it's a startup with few funds to spare or a cheapskate nickel-and-dimer. Whichever the case, you can check out services such as Betterment, which will help manage your 401k and other funds for a small fee. It's worth looking into if you're forced to build an account on your own.
2. Focus on your budget
You might luck out and land a high-paying job right out of the gate, and suddenly you don't have to drink Colt 45 anymore. With some fat paychecks rolling in, you're hitting the waspy bars and clubs, ordering vodka Red Bulls and Bud Light Limes for all your bros. It's important to celebrate your newfound freedom, but you need to keep budgeting in mind.
Luckily, you've got apps like Mint to help keep you in check when Payday Friday rolls around. With Mint, you can connect your bank accounts into one service and monitor your spending right from your phone. As paychecks come in, you'll see where your spending habits start to lean before they get out of control. Keep in mind that certain taxes - health care, state and federal tax, for example - will automatically be removed from your pay, so tracking your budget gives you a better idea of your actual cash flow.
Does budgeting kind of suck the fun out of celebrating your first job? A bit, but you'll thank yourself when you choose to avoid hefty bar tabs trying to impress your 63rd Tinder match at the local watering hole.
3. Build out your network
No, Facebook isn't the best option for networking with like-minded professionals. And let's face it: Your latest photo album from a night on the town doesn't exactly scream "Connect with me!" to your coworkers. In fact, unless you're homies with some of your office peers, you should really steer clear of friending anyone through Facebook until you clean it up.
You should instead focus on building your professional network through LinkedIn and Twitter. There's always a risk with the latter given how much damage you can do with 140 characters, but you can lock down your Twitter much easier than other networks. LinkedIn can become an invaluable resource as you move through your first job to help you network with your higher-ups and build long-lasting relationships with them.
As you complete new tasks and build unique skills and abilities on the job, throw them into your profile to boost your social reach. If and when you decide to move on to another opportunity, you want to have a place to display your proficiencies to prospective employers. That shot of you doing a kegstand at whatever broternity you were at after graduation isn't the best resume booster.
These are just a few of the things you should start focusing on after getting your first job, but they're not the end-all, be-all steps to take. Let us know in the comments what else you think is important!