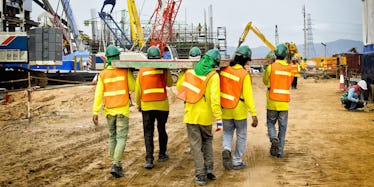 3 Industries That Are Booming With Job Opportunities Right Now
Shutterstock
To all the job-hungry hopefuls, here's something to snack on: According to a Bureau of Labor Statistics report issued March 6, employment rose by 295,500 in February, which beat the average monthly gain of 266,000 throughout the previous 12 months.
This brings the unemployment rate down by 5.5 percent.
The job hungry just got hungrier! But, not so fast. With every job hunt, you need to know where to look.
Here are the top three industries in which to try and land a job right now:
1. Food And Beverage
The food and beverage industry dished out the most jobs, at a solid 59,000 job additions. These positions range anywhere from cooks to servers to hosts to bartenders.
No stranger to the food industry is Solomon Choi, CEO of 16 Handles, the fro-yo spot to "flaunt your flavor." According to Choi, a total of three more 16 Handles stores will open in the next three months, creating 40 new jobs.
Currently, 16 Handles has 43 locations in the US and about 500 employees who work across those locations. It takes 10 to 20 people to run a successful 16 Handles because most of the employees are part time.
"A shift can be as few as two employees and as much as six during the busiest hours," Choi said. "An average of four employees are needed to run a store with two cashiers, a team member and a manager on duty. This ensures quality customer service is in place."
Another expanding eatery is NYC's "shrewd fast food" vegan restaurant, Blossom Du Jour. Owner Pamela Elizabeth, who also owns Blossom and Blossom Bakery, is expanding Blossom Du Jour with several new locations this year. She expects approximately 40 new jobs.
"Most of the people who apply to work with us are vegan, vegetarian, or health minded, and they are seeking out a work environment that suits a lifestyle that Blossom encourages.
It's important for people to feel their work aligns with something they are passionate about," Elizabeth said.
In terms of entering the food industry, running on green has its benefits.
According to Rich Goldstein, Owner of Natural Epicurean Academy of Culinary Arts, food and health will be the fastest growing sector in the food industry.
"The food movement and the cost of healthcare are finally intertwining," Goldstein said. "It's becoming more apparent that the standard American diet is causing diseases, and because of that, more Americans are adopting healthier lifestyles."
Think you're a match for the food and beverage industry? The restaurateurs and culinary experts above agree that friendly, outgoing and passionate workers, who are natural communicators, are best fit to work in the food and beverage industry.
2. Professional And Business Services
As a close second to the food and beverage industry, professional and business services brought in 51,000 jobs. Tech consulting services were at the top of this category with 7,000 added jobs and computer systems services closely followed with 5,000.
According to Aaron Ross, President of Ross Backup, a fast-growing online backup company, technology skills plus social skills are necessary.
He noticed that young college graduates looking to get involved in the technology sector don't always seem to understand the importance of treating others with respect.
"Programmers or coders have to work in close proximity to one another. When you hire socially inept workers, it causes friction and lowers productivity.
I would choose a bright, weaker-skilled employee with a better personality any day. Skills can be learned faster than trying to develop a new personality."
Ross continued, "Also, dealing with customers has become a nightmare in the digital age, and it's not the customers' fault. For some reason, some of the younger hires have forgotten (or were never taught), that the customer is always right.
I've found that hiring 40 to 60-year-olds to do customer support has always resulted in a more pleasant experience. Frankly, employees are easier to replace than a lost customer!"
3. Construction
In the construction industry alone, 29,000 jobs were added in February. Employment in specialty trade contractors rose by 27,000, mostly in the residential component.
According to the US Census Bureau and the Department of Housing and Urban Development, 2015 new residential construction statistics are as follows: Privately-owned housing units authorized by building permits in January were at a seasonally-adjusted annual rate of 1,053,000; privately-owned housing starts in January were at a seasonally adjusted annual rate of 1,065,000; privately-owned housing completions in January were at a seasonally adjusted annual rate of 930,000.
With the demands of living increasing, construction workers have a place to stay in employment.
Now that you know where to look for a job, here's where not to look:
Industries To Avoid
Mining
Employment in mining decreased by 9,000.
Wholesale trade, information, financial activities and government
These industries showed little change in job additions.