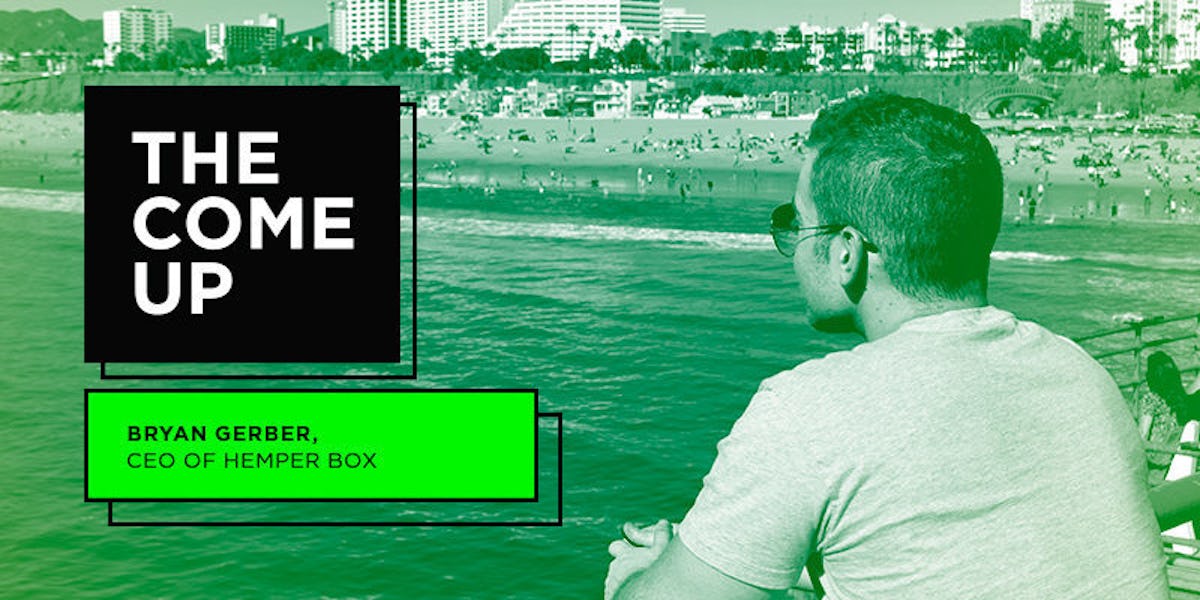 How This 24-Year-Old CEO Started A Million-Dollar Business In His Dorm Room
Hemper Box
You may have read an interview on Elite Daily recently about a certain dope marijuana accessory box curated by none other than Flosstradamus. Well, now you get to meet the dude behind the box, a 24-year-old entrepreneur who's redefining what it means to be self-made.
Elite Daily spoke with Bryan Gerber, CEO of Hemper Box, about what it takes to run a business straight out of your college dorm and basically live the life.
But first thing's first: How did he get a business off the ground in the first place? Gerber spoke on the importance of social media in growing a brand, saying,
They call me 'The Hype Man'... So, if a customer is excited about the box or anything like that, my friends will look at me and be like, 'Hype Man.' So that was my job. I was on Instagram in the beginning literally every second of my life. [laughs] Commenting, following, messaging people like, 'Hey, come check out our new brand.' I literally went beast mode on social media. And that's how we got our first 35 subscriptions.
Like many startup gurus these days, it can be tricky maintaining a work-life balance when your company headquarters are located in your living room. Ultimately, though, the thrill of running your own business makes it all worth it.
While Gerber manages dozens of different tasks within a single day, it's that variability that keeps things interesting. As he says himself,
Honestly, it's a pretty cool job. I used to do this stupid thing in the morning when I first started this job. I'd wake up at 9, and I'd be like, 'Oh, sh*t, late to work.' And then five minutes later, I would sit on the couch, and I'd snap my friends again, and be like, 'OK, made it.' And everyone started getting pissed off at me, but I thought it was the funniest thing. I'm running this startup out of my apartment, and it's working.
So, what kind of background drives a person to take on such a big project? Having grown up in Maryland with his dad, a doctor, in "your basic Jewish household," Gerber says his upbringing was fairly normal.
However, like many successful entrepreneurs, Gerber says,
I've never been into school. I've hated school always. It's just not been me. I feel trapped, I hate authority... So, I always tried to avoid school.
After transferring from community college to George Washington University, he studied accounting and information systems at the business school. But his interest in entrepreneurship peaked way before then, as he explains,
My dad actually got remarried in 2008 and decided to move to Atlanta and open up a brand new medical practice. And it tanked when the economy went to sh*t. And so, my mom looked at me when I was 16 and said, 'Hey, you need to get a job.' So, I was like, OK, sh*t. This has never happened before. My dad used to give me endless amounts of money. What am I going to do?
Like most teenagers, Gerber got a job at his neighborhood's creamery. All his friends were working there, but that didn't necessarily mean they were all having a party at work every day. Of that time, Gerber explains,
I'm making cones, and I'm burning myself. And I'm just like, this job sucks. I'm getting paid maybe 10 dollars an hour, if that -- probably more like 8-something [dollars] at the time. So, one day, I'm moving the cones from one basket to another and one of my buddies tips it over or something, right? Well, long story short, I go over to the manager and after working there for two weeks, busting my ass, he says, 'Hey, so it's not working out. I think we're going to let you go.'
As a kid working hard at his first job, Gerber says he was heartbroken. The very next day, that feeling quickly turned into motivation to open up a Hawaiian shaved ice stand.
After securing a $6,000 loan from one of his friend's fathers, he bought the cart, machine and syrups to start his own stand. He launched soon after on the weekend of July 4.
Any guesses where he might have opened up his stand? That's right. He set up shop directly in front of the creamery where he got fired.
Having that kind of cojones apparently paid off. Of that first weekend, Gerber tells Elite Daily,
I killed it. I was making 500 dollars a day, in cash, the whole summer. I was doing bar mitzvahs... I started doing adult parties with shaved ice shooters... Some concerts, you name it. It really just kind of took off. I did that for three summers, and that's actually how I paid for school -- through the shaved ice stand.
Turns out, everything really started to click once Gerber got to college and met his assigned dorm mates. One of them, RJ, would end up being his business partner and best friend. Gerber extolls him as the supportive backbone of the Hemper Box brand, saying,
He's the most humble, nicest guy I've ever met. He's really genuine and, honestly, the most strategic partner I could have ever found in my life... RJ literally backs me up on any idea I come up with no matter how much it's going to cost. Honestly, he's my support team.
Is that something in your eye or is this outpouring of bro love making you feel all the feels? Yep, me too.
Talking with Gerber, it seems there's a deep sense of camaraderie that keeps this uber-successful business working.
In the competitive world of marijuana-related subscription boxes, it takes more than hard work and gumption to make it big, and after growing from 35 to over 6,000 subscribers in just one year, Hemper Box is clearly doing something right.