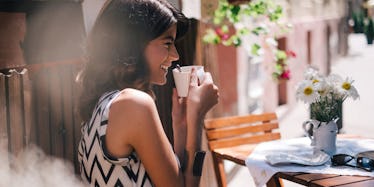 11 Ways Becoming A Morning Person Will Drastically Change Your Life For The Better
Apple CEO Tim Cook is known for getting up early and sending out company emails at 4:30 in the morning.
The youngest CEO in the NBA, Brett Yormark, gets up at 3:30 in the morning in order to get to the office by 4:30.
Waking up early certainly has its benefits. Thomas Jefferson once said, "The sun has not caught me in bed in 50 years." Let's just say that the principal author of the Declaration of Independence knows something about achieving success.
Having limited distractions and a keen early morning focus can bring some of the brightest ideas to the table early in the morning.
If you enjoy hitting the snooze button for more shuteye, you might want to reconsider and learn the 11 reasons why the early bird catches the worm in the business world.
While 3:30 am might be a little too early, rising before sunrise certainly has its benefits and will give you a leg up on the competition.
Limited Distractions
You will be amazed with how much work you'll be able to get done in the early morning. Eliminating the distraction of emails, phone calls, social media, text messages and meetings will lead to some of your most productive work.
Strategic Planning
Catching up on all of your responsibilities during regular business hours is a tough task in itself. It provides you with very little time to plan for the future. The quietness during the early morning will give you time to plan for the future.
Go on the Offensive
Having an early start to the day will make you feel less overwhelmed to start the day. Instead, you'll feel fantastic about the work you got out of the way by 9 am, which will lead to a more productive day.
Various studies have shown that morning people exhibit character traits like optimism, being agreeable, satisfaction and conscientiousness.
Creativity
It is tough to be creative when you are surrounded by distractions all day. Dedicating 30 minutes of time each morning to imaginative ideas can lead to some of your best project suggestions.
At the end of a workday, your brain is so drained that it's tough to come up with great ideas. The morning is where your imagination will prosper. You won't regret waking up early if it leads to one of your best ideas.
Competitive Edge
People are always in shock when they learn that someone wakes up extremely early. Getting to the office before your peers will show the dedication and commitment you have to your line of work.
When your coworkers notice the improvement in your work from waking up early, they'll begin to follow suit.
Don't Miss Out
Have you ever noticed that primetime television shows take place during the evening, not in the early morning? There aren't that many events you'll be missing out on at 6 am.
If you get into the office early, you still have the entire evening to enjoy yourself, your friends and your family. You won't feel like you are missing a beat by getting to the office before sunrise.
Avoid Traffic
Spending your time wisely is an important element in the working environment.
If you wake up early, you'll realize that your commute to work will take less time since most people are still hitting the snooze button to plan on arriving at 9 am. By waking up early, you'll start commuting less while making your time more efficient.
Better Response
According to an article by CBS, emails sent from 6 am to 7 am are about three times more likely to be opened than emails sent at 4 pm. Many CEOs and top-level executives wake up in the early morning.
By getting your message out and having it on the top of the inbox pile in the morning instead of the bottom in the afternoon will lead to more people getting back to you.
Time to Workout
Working out is a key component to having more energy throughout the day. Many successful business people get up early to exercise before everyone else is awake (like Tim Cooke).
The majority of gyms open at either 5 am or 6 am, which makes for ideal hours for the early riser. Hitting up the gym before work will make you feel more upbeat during business hours and lead to a healthier overall lifestyle.
Enjoy Quiet Time
You'll come to appreciate the one to two hours in your office when it is peaceful and quiet before the rest of the workforce arrives.
Arriving at your desk in the early morning will provide you with more time to stay organized and detect any problems while staying proactive.
Set Schedule
Waking up early requires discipline, especially when it comes to the time you go to bed the night before.
If you watch late-night television or browse the Internet into the wee hours of the night, it'll be harder to maintain a routine of waking up early.
By getting at least eight hours of sleep per night and going to sleep earlier, you'll feel more refreshed in the morning while maintaining a consistent sleep routine.
So what are you waiting for? Start setting your alarm clock earlier and you'll notice the difference in your productivity at work. Just make your alarm clock is situated far away from your bed so you avoid the temptation of hitting the snooze button!
Photo Courtesy: Fox/The Simpsons