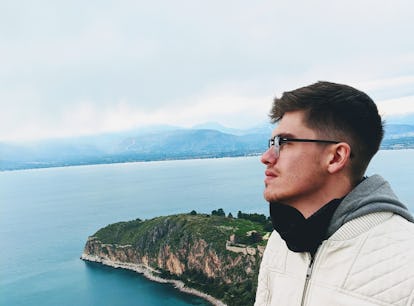 With Online Courses At ASU, This Travel Fanatic Was Able To Study All Over Europe
How Jeffery Pendleton was able to pursue a one-of-a-kind education in cultural anthropology through ASU Online.
Jeffery Pendleton at The Fortress of Palamidi.
It wouldn't be until his junior year of college studying abroad in Germany that Jeffery Pendleton would first step foot on a plane, yet the Kentucky native already knew so much about the larger world and its languages. In middle school, Pendleton began amusing himself by independently learning foreign languages, a habit he could never quite kick. When it was time to get on his return flight home, Pendleton was faced with conflicting realities. First, the funding that allowed him to attend college was being cut. Yet simultaneously, the time he has spent abroad made it abundantly clear to him that he couldn't just stay put in America.
What followed for Pendleton was a year of struggling in the States, trying to figure out a financially feasible way to pursue both his academic interests and a life beyond his home country's borders. Eventually, he'd figured it out: He found a job as a live-in private English tutor for a German family living on the border of Geneva and France. This still wasn't enough to satiate his intellectual curiosity, though, and spending time in a city as multicultural as Geneva only made it clear that he was particularly passionate about anthropology. Luckily for Pendleton, within a year he'd been accepted to Arizona State University, an American college with a highly-respected anthropology program offered online that didn't require him to move back across the pond.
While Arizona State University couldn't have been a more perfect fit for Pendleton's lifestyle and academic interests, this wasn't immediately clear to Pendleton. "In all honesty, I was a bit skeptical when I first applied, but I got over the skepticism after taking a Universal Learner Course with Doctor Don Johanson. He's the finder of Lucy, that is australopithecus afarensis, our newest human ancestor that gave us evidence of bipedality in humans," Pendleton explains. "The presentation, the enthusiasm, the way he connected with students, and the amount of time he put into his lectures and connecting with us made me think that it was the right decision." ASU is one of the top universities in the country for anthropology research, and this course with Dr. Johanson was a taste of the University's impressive anthropology faculty.
During his time at the school, Pendleton was also able to further the experiences of his fellow online students by founding the online branch of ASU's Undergraduate Anthropology Association and becoming an inaugural member of the Online Student Government Advocacy Group. "I was afraid of missing out on connecting with my ASU peers, especially the anthropology students," Pendleton says. "Through the Undergraduate Anthropology Association Online branch, we started having good Zoom events with professors, different round table discussions on colonialism, and different types of guest speakers from ASU or other universities within the realm of anthropology."
Through his years studying at ASU, Pendleton has lived in Luxembourg, Switzerland, and France, among other European countries, giving him an incomparably robust set of experiences to apply to his studies — as well as plenty of unique and unforgettable memories that any travel enthusiast would envy. "Because traveling in Europe is so cheap, if I'm learning about a specific culture or site, I can hop on a train or I can hop on a plane and I can go there," Pendleton says. "I can learn it in person, I can make connections and learn multicultural communication."
Even with all of this traveling and living abroad, Pendleton still hasn't had his fill of exploration just yet, nor has his appetite for knowledge ceased now that he has his undergraduate degree. Though Pendleton's currently residing stateside, come October he'll be across the pond again, working on his masters at the University of Cambridge with glowing letters of recommendation from his professors at ASU. While earning his degree online may not be considered the most traditional path, Pendleton feels more prepared for the next step in his academic journey thanks to the comfort of his independent learning. "I feel more ready for research because of [studying online,]" Pendleton says. "I'm rather proud of myself: I got into the number one school for my field in the world."