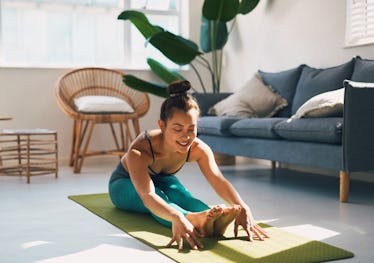 A Yoga Sequence For The Winter Solstice To Set Intentions For The New Season
Deep breath in, deep breath out.
Hiraman/E+/Getty Images
This Wednesday, Dec. 21, is the winter solstice, which of course, marks the beginning of the winter season and is the shortest day of the year. This magical changing of seasons has been celebrated for years, with traditions and rituals that honor the rising winter sun. If you'd like to celebrate the occasion yourself this year, incorporating some yoga poses for the winter solstice into your day could be the perfect way to honor and respect all that nature does for us.
All around the world, people celebrate the winter solstice in different ways. In England, for example, you can see the beautiful solstice sunrise from the ancient Stonehenge rocks, and people often play instruments and participate in yoga flows as they wait for the sun to come up.
TBH, nothing sounds more marvelous than partaking in this sacred ceremony, but since it might be too late for a flight to England, practicing yoga for the winter solstice, wherever you are, will definitely do.
The power of mindful movement and expansive breath can truly do no wrong, and it's the perfect way to honor the changes taking place in the natural world, especially with the arrival of a solstice. Instead of resisting the extra darkness that this day brings, open your heart, welcome the change, and turn inward with intention to allow your body to adapt to this sacred time of year. Whether you've never done yoga or a yoga pro, you'll be able to follow along to this yoga sequence for a peaceful and powerful start to the winter solstice. Consider lighting a few candles before you begin to set the mood. Make sure you are in comfortable clothing and you are in a quiet, serene space with no distractions for your yoga practice.
When the winter solstice arrives, try this yoga flow to slow down, let go of what no longer serves you, and create the space to breathe.
After you've finished your relaxing yet energizing yoga sequence, continue to take a few moments to yourself by journaling, making a cup of tea, going on a walk outside, or reading a book. Ease back into the world slowly incorporating gratitude throughout the rest of this year's winter solstice. While this yoga sequence is great for winter solstice, it's also something you are able to incorporate into your daily or weekly routine.
This article was originally published on