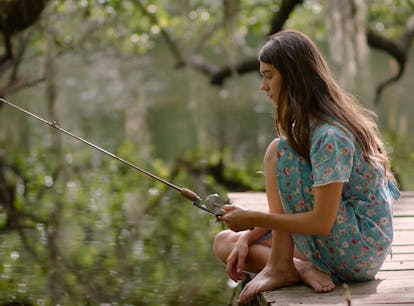 50 Where The Crawdads Sing Quotes You Can Use As Instagram Captions
Everyone feels like a "marsh girl" sometimes.
Where The Crawdads Sing is the newest novel to film adaptation to hit the big screen this summer. Written in 2018 by zoologist Delia Owens, the tender tale of love is part coming of age, part murder mystery, and it instantly hooked readers as one of the biggest global bestsellers of all time. Reese Witherspoon included it in her famous bookclub and went on to produce the adaption under her Hello Sunshine production company. After years of anticipation, it's finally in theaters now, and stars Normal People's Daisy Edgar-Jones as the resilient Kya Clark. Whether you've read the book cover to cover and can't wait to see it come to life, or you're curious to experience the haunting story for the first time, these Where The Crawdads Sing quotes make for moody Instagram captions you can pair with your outdoor pics this summer.
Crawdad lovers can relate to the feeling of being a lonely "marsh girl" like Kya and searching for connection within their world. You can use these movie quotes as Instagram captions for when you're hiding down "where the crawdads sing." Whether you're exploring the backwoods of your hometown, swimming in the creek, fishing at the dock, or fantasizing about first love in a forest you could only read about in a book, make sure to snap a picture to embody your inner Kya and share it to the 'Gram. You could even film your own Reel or TikTok clip with Taylor Swift's song "Carolina" that was written for the film to soundtrack your ultimate "crawdad" moment, and use one of these Where The Crawdads Sing movie quotes for the perfect caption.
"People forget about the creatures who live in shells."
"Please, stay."
"Is she a scientist or a witch?"
"The truth will come out."
"If you're in trouble, run and hide deep in the creek where the crawdads sing like Ma always said."
"It's okay. I get lost sometimes."
"I felt something other than hurt, I felt brave."
"You have just as much as a right to be here!"
"You can't trust nobody, you protect yourself."
"Being completely alone was a feeling so vast it echoed."
"I didn't know how to do life without grits."
"Sometimes I feel so invisible I wonder if I'm here at all."
"Life can change in a second."
"The only constant in nature is change."
"The heart's pain seeped away like water into sand, still there but deep."
"I know you think I'm trash but I'm worth more than a picnic."
"It's like having a friend your whole life but you never see their face."
"Being isolated was one thing, living in fear was another."
"Plenty of kids go to school without shoes."
"You have just as much of a right to be there."
"Reckon I was better off learning from the wild."
"I don't know if there's a dark side to nature."
"I never hated them. They hated me."
"I'm every shell washed upon the shore."
"Marsh is not swamp; marsh is a space of light."
"They don't call you by that name. They call you Marsh Girl."
"I can't help you unless I know you."
"I learned from the mistakes of the others how to live with him."
"There was something about that boy that eased the tightness in my chest."
"I woke up on the right side of dirt."
"If we lose, we lose big."
"I didn't know which way was home."
"You can't run away from every whipstitch."
"It is easier to lay blame on an outsider than it is to rely on facts."
"I didn't know words could hold so much."
"Whenever I stumbled, the marsh caught me."
"Five years for my heart to open its shell again."
"You're something else, ain't ya?"
"You the real deal, ain't ya?"
"You weren't man enough to face me."
"I thought I'd have to choose between you and everything else."
"I had to do life alone, but I knew that."
"I was no longer lonely. That seemed enough."
"The marsh was our secret."
"Wilder than ever."
"I will never live like that, a life wondering when the last fist will fall."
"Sometimes, for prey to live, its predator must die."
"I am the marsh now."
"I am a firefly."
"That's where you'll always find me, way back yonder, where the crawdads sing."