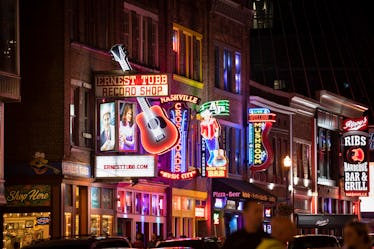 10 Things To Do In Nashville For Bachelorette Party Fun You'll Never Forget
Make the most of Music City with your besties
Pgiam/iStock Unreleased/Getty Images
A bachelorette party is a major opportunity to make lifelong memories with your besties before you officially tie the knot. It's a chance to bring all of your friends together to celebrate one of the biggest moments of your life. It's not every day that your day-ones can come together to show their love and support for you, so why not go all out, head to Nashville, Tennessee, and have a trip to remember? Bachelorette parties are exciting for both you and all of your chosen bridesmaids, and we've rounded up the best things to do in Nashville for bachelorette party fun you and your besties will never forget.
Nashville, Tennessee is a great alternative to the typical bachelorette weekend in Vegas or Miami. The city has so much to offer, from music culture to unique venues and activities, which is why it's become a hotspot for brides-to-be in recent years. In terms of celebration and exploration, Nashville is a city where you'll never run out of things to do. There's live music on nearly every corner, American music history to discover, and plenty of activities to keep your girls entertained all day and night, without the hefty price tag of other popular bachelorette destinations. You and your friends can go boutique shopping, two-stepping, wine-tasting, bar-hopping, sightseeing, and, of course, you can definitely eat your way through this awesome city. There are countless activities available for bridal parties of every kind, so believe me when I say you'll have no problem having an epic time with these 11 things to do for an unforgettable Nashville bachelorette party.
As a future bride, you deserve a bachelorette party that will leave you with memories to last a lifetime. After you experience the best that Nashville has to offer with your closest girlfriends by your side, you'll never want this weekend to end.
This article was originally published on