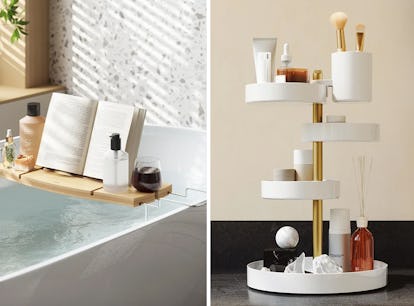 These Home Accessories Are The Perfect Gifts For Design-Savvy Moms
We may receive a portion of sales if you purchase a product through a link in this article.
Whether she's an interior design lover, always looking for cute ways to upgrade her space — or just loves to be surrounded by beautiful things — the "Made for Mom" home decor collection by Umbra is packed with stylish gift ideas. Curated to bring a chic, modern, and functional statement to any home, this exclusive Mother's Day collection features over 50 of Umbra's designer-decor pieces.
Umbra (Latin for "shade") is the brainchild of childhood friends Les Mandelbaum and Paul Rowan. In 1979, Rowan found himself frustrated by a lack of thoughtfully designed window shades. After calling his friend Les, a fellow design enthusiast, they turned the dilemma into an opportunity to create what they felt was missing, launching Umbra with a single window shade. Sharing a passion for creating home decor and accessories that bring purpose and personality to the home, their designs are easy on the eye, the wallet, and the planet. Today, the brand has grown from its humble window shade to offer everything from luxe wall decor to cute storage solutions, along with accessories for the bathroom and kitchen. All of these are created under Umbra's Design for the Planet pledge as part of their commitment to sustainable design practices.
To inspire your gift-giving, here are some of the brand's top sellers that your mom is likely to be very impressed by.
For The Mom With A Green Thumb
As its name suggests, the Triflora Hanging Planter is designed to house three plant babies — it's perfect for herbs, succulents, and vines — and it hangs from a sleek drapery rod that can be mounted to the ceiling or wall. You can also adjust the length of the planter's ropes, sliding them along the metal rod to customize the position of the pots and your look.
For The Organized Mom
If your mom's a stealth organizer and loves her beauty products, she will be obsessed with the Pirouette Cosmetic Organizer. This cute caddy has five levels of storage, from a cup for makeup brushes to four more tiers of trays that rotate a full 360 degrees. The placement of each tray can be customized according to the sizes of products. Whether she displays it on her vanity or the bathroom sink, it'll look modern and sophisticated on any surface.
For The Nostalgic Mom
For moms who love to have photos around, gift her these geometric floating frames that give family memories a statement-making display. The geometric wire Prisma Picture Frame rests between two sturdy panes of glass to create a floating effect, along with adding dimension and depth. Part of the frame's beauty is that it can be hung on a wall, as well as rest vertically or horizontally on a shelf or tabletop.
For The Mom Who Loves To Decorate
An accent mirror opens up the home, adds light and charm, and is an everyday essential for checking your reflection before heading out. However, there's nothing "every day" about the elegant Hubba Arched Mirror. Set to become an instant focal point in any space — we're feeling it in the entryway, bedroom, or living room — the arch-shaped mirror is a standout piece with its soft curves and a stylish metallic-finished rim.
For The Mom Who Loves Wine
If your mom loves a good vino as much as she enjoys entertaining, impress her (and her guests) with a designer wine rack. With its eye-catching curved arch and chic wood finish, the Vinola Wine Rack allows moms to display their bottles in style. And we mean bottles plural — this rack can be stacked three racks high and each rack holds five bottles, displaying a total of 15. Cheers to that.
Wait, there's more...
For more gorgeous gift ideas for Mom, click here to view the entire Made For Mom collection and all of the design-conscious pieces by Umbra. Shop now through May 14, and you'll receive a $50 Umbra gift card when you spend $150 or more. Your gift card will be delivered to your inbox 45 days after purchase. Even better: You'll get free shipping when you spend $75 or more, and returns are free and easy.
This article was originally published on