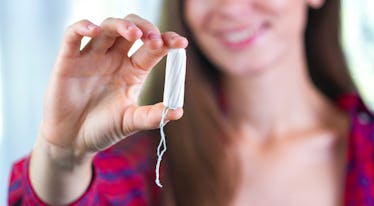 The Best Tampons For Heavy Periods
We only recommend products we love and that we think you will, too. We may receive a portion of sales from products purchased from this article, which was written by our Commerce team.
If you have a heavy period, you're probably all-too-familiar with the unexpected leaks that come with it. That's why it's no exaggeration when I say that finding the best tampons for heavy periods can change your life for the better — take it from someone who knows.
What qualifies as "heavy" can vary widely, depending on the person. But you should always talk to your doctor first to make sure your heavy flow isn't a sign of an underlying issue. If you've received a clean bill of health and you still find that regular-absorbency tampons don't cut it, you'll probably benefit from upgrading to super, super-plus, or even ultra tampons.
And what exactly do those names mean? For reference, regular tampons hold between 6 and 9 ounces of menstrual blood. Meanwhile, super tampons hold between 9 and 12; super-plus tampons hold between 12 to 15; and ultra tampons hold an impressive 15 to 18 ounces (roughly twice as much as regular tampons). While it may feel counterintuitive, you should always use the lowest absorbency tampon you can get away with to minimize your risk of toxic shock syndrome.
Once you have a better understanding of the absorbency you need, you should also consider any personal preferences, like if you want organic or applicator-free tampons. Unfortunately, for super-plus and ultra tampons, those options are more limited.
Below, I've put together a list of the best tampons for your period, arranged from the most absorbent tampons to the least, so there's something here for every person's definition of heavy.