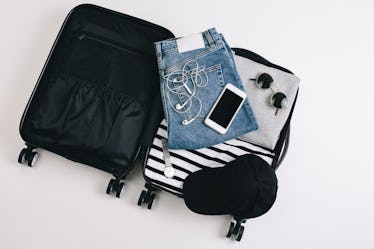 8 Tips For Fitting A Week's Worth Of Stuff Into A Carry-On, If You Always Overpack
Raise your hand if you always overpack. (I'm raising mine real high.) From too much makeup to yet another pair of shoes, I somehow always check a bag full of stuff I really don't need, even when my trip is only a week long. If you're anything like me, you're probably on the hunt for tips for fitting a week's worth of stuff into a carry-on.
I tend to be on the side of over-prepared rather than under, just in case one of the many potential scenarios in my head actually plays out: It could rain, I might want to wear those cute heels, or I could actually decide to work out on this trip. (I won't.) And because I'm always on the hunt for an Instagrammable moment, I make sure that every article of clothing I bring is picture-perfect — but this also means that I pack a ton of options, and almost always hit my 50-pound limit on my bag. (Oh, the struggles!)
Even though I joke about my lack of packing skills, as I've racked up a ton of miles traveling around the country (and the world) for work, I've come up with a few trips for fitting everything I might need for a week-long trip into a carry-on.
We only include products that have been independently selected by Elite Daily's editorial team. However, we may receive a portion of sales if you purchase a product through a link in this article.