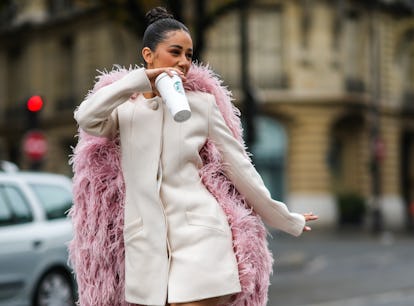 How To Use Starbucks' January 2023 Free Refill Tumbler For Coffee & Tea
Get excited, iced coffee fans!
Edward Berthelot/Getty Images Entertainment/Getty Images
Starbucks is giving away free drinks for the entire month of January in 2023 to kickstart the new year. The catch is, you'll need to have Starbucks' coveted refill tumbler to score this deal. Not your average tumbler, the refill tumbler is a game-changer that will have you saving money on your coffee runs. This year's Dark Green Refill Tumbler is a little pricier than past years, but there are new drink options, too. Here's how to use Starbucks' January 2023 free refill tumbler for all the drinks.
ICYMI, the refill tumbler was first launched in 2013 offering one free handcrafted espresso beverage every day in January 2014. It was last spotted in 2019, before taking a two-year hiatus. After a long awaited comeback, it made a grand reentrance for Black Friday 2022. On Nov. 22, Starbucks dropped the Dark Green Refill Tumbler across the United States and Canada for $64.95, the same price as when it debuted nine years ago. Starbucks told Elite Daily in an email that it will remain available "while supplies last." I would snag them while they're still hot because they're bound to fly off the shelves.
How To Use Starbucks' January 2023 Refill Tumbler
Having a refill tumbler means you're granted one free Grande Brewed Coffee or Tea, hot or iced, every day from Jan. 1, 2023 to Jan. 31, 2023. The best part is no purchases are necessary — aside from the cash you shelled out from the mug. To make the most out of this deal, pop into your local Starbucks with your refill tumbler in hand every day in January. You'll want to ask your barista for the free coffee or tea that comes with the refill tumbler.
As you take advantage of the one-free-coffee-(or tea)-per-day deal, keep in mind that it doesn't include Starbucks Reserve coffee, Cold Brew, Nitro Cold Brew, or additional customizations. Unlike previous years, though, this year's Refill Tumbler deal includes iced coffee and tea, according to a Starbucks email shared with Elite Daily, so get pumped, Team Iced Coffee all year round.