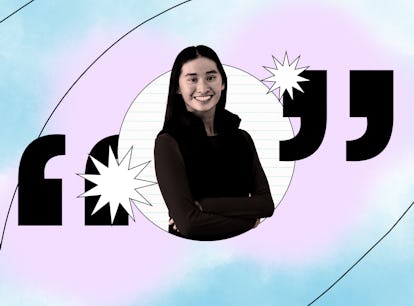 Meet The 17-Year-Old Developer Who's Inspiring Girls To Code
With the help of Apple's CEO and Karlie Kloss, Rebecca Wang is bridging gender disparity one app at a time.
Rebecca Wang/Elite Daily
In many ways, Rebecca Wang is just like your average 17-year-old. She is about to be a senior in high school, plays a sport, is applying to colleges, and spends copious amounts of time scrolling through her For You page. One thing that sets her apart, though, is that much of her non-TikTok-related free time and attention is spent on creating an environment that encourages and promotes the growth and empowerment of women within the tech world.
Earlier this year, after gaining an interest in coding from participating in a hackathon (an event where people come together to solve problems), Wang went on to win Apple's annual Swift Student Challenge, a part of the tech company's Worldwide Developers Conference, with her app Dare to Dream. The rising high school senior wowed onlookers with her creation and its dedication to working to end gender disparity in tech, which would create more representation for underrepresented genders. This landed her an opportunity to present her app to Apple CEO Tim Cook and become a scholar of Kode with Klossy, a coding camp for young girls created by supermodel Karlie Kloss.
Always motivated by improving social standards and bettering society as a whole, Wang uses coding and tech as her form of advocacy. Below, she tells Elite Daily all about her history-making app, the important career advice she received from Kloss, and how she balances her professional endeavors, school, and her social life.
Elite Daily: Congrats on your now award-winning app! Tell us all about it.
Rebecca Wang: Dare to Dream aims to empower the next generation of women in tech. It interactively showcases 10 historical and contemporary women who made their mark in technology, overcame barriers, and shattered challenges. Dare to Dream also provides fun facts about advancing gender parity and opportunities to get involved such as Kode with Klossy and Girls Who Code. I want every young woman who encounters Dare to Dream to know that their dreams are valid, their voices matter, and their potential is limitless. Creating this app was born out of my personal journey as I felt and heard the frustration of being underestimated and denied opportunities in an especially male-dominated field.
ED: Describe the process of constructing the app, from start to finish. Where do you even begin?
RW: I only learned about the challenge a few days before it was due. I was traveling with three friends for a business and technology competition, and one of them who won Swift Student Challenge last year saw that I was writing a book called Dare to Dream on Inspiring Young Girls to Code. She encouraged me to transform my book into an app to enter the challenge. Two connecting flights later, I submitted my app.
ED: What inspired you to get into coding and hacking?
RW: I entered the world of computer science through a really unorthodox path. I learned through workshops at a hackathon, which is a 24-hour marathon of learning and coding to develop projects. Despite entering with no prior coding knowledge, I pulled an all-nighter, built a website on financial literacy, and won a prize sponsored by Capital One. Even though the hackathon spanned a mere 24 hours, it really opened my eyes to the immense potential of coding as a tangible solution to address the crucial issues of today.
ED: You're also a Kode with Klossy scholar. What advice did Karlie Kloss give you about the world of coding?
RW: It was an unbelievable experience. We had a really genuine conversation with Tim Cook and other Apple executives about the importance of gender inclusion in technology. One piece of advice she gave me was to just keep pushing on or always remember to look back and know that you yourself can be a role model in your community, share your challenges, your journey, and struggles.
ED: What's the most exciting part of this field? And the most difficult?
RW: The most exciting part of coding is that coding is an art. It really breathes life into your ideas and dreams and it is really boundless. But the other part of it is that the only thing that you're bounded by is your creativity, really. You can create anything with code; you can create your own solutions to any issue.
ED: Have there been any particular barriers that you've faced being a woman in STEM that have stood out to you?
RW: When I first got started in hackathons, there were very few girls. Sometimes I was the only girl at the hackathon or the only one at a specific workshop. So whenever I found a new aspiring coder, I always try to mentor them and partner up with them during our projects so we can actively work together and learn from each other.
ED: You founded the West Coast's largest hackathon for marginalized genders. How has gender played a role in your chosen career path?
RW: Every project that I have pursued, I have always put a focus on minority communities at the forefront of my projects, and that's how I really want to continue uplifting marginalized voices as well. Being a woman in STEM is my identity, and it comes with so many barriers and challenges, especially in a male-dominated field. That's why I want to keep pushing for a world where diversity, equity, and inclusion are not mere buzzwords, but foundations of innovation and progress.
ED: Through all of these impactful events, what have you learned about yourself?
RW: One of the biggest things I learned about myself is that I am really a mission-driven developer. I love coding for good, coding to develop solutions to issues of today. One of my strongest talents is my creativity. Even when I come up with one of the most out-there solutions — an app or a website, a platform to code — a few weeks later I develop it, I develop a schematic, and it just turns out to be a working prototype. So I'm really happy about that.
ED: With so many things on your plate, how do you balance school, friends, family, plus all of your projects? Do you ever find yourself doom-scrolling on TikTok, or is there no time for that?
RW: So a really fun fact, my screen time on TikTok is really high — immensely high, actually. But I think I am more on the educational side, current events side of TikTok, so my eyes really do open to new societal issues, and that's where I get most of my inspiration from actually for coding my projects.
When I first started coding, I got so obsessed with it. Weekend after weekend, I was just busy coding on my computer, trying to learn as much as I could. But later on I set non-negotiables, setting aside an hour per day to exercise, because I am a competitive swimmer, and making time to hang out with my friends to develop and build those connections and relationships that I value.
ED: Walk me through your everyday routine. Or is every day different?
RW: I rely on Google Calendar a lot; it's my lifeline. I wake up really early in the morning for swim practice, and after that I feel really energized, pumped up for the day. From there, I go on to my meetings and I do my classwork. Mostly, my meetings are consumed by projects I'm working on. Then I have afternoon swim practice, I exercise, and then I work more on projects really.
ED: Post-graduation from high school, what's the next step for you?
RW: I hope to major in computer science or business at a college with a thriving startup environment. Then I really hope to join a startup or find one that is focused on social good.
ED: What will you miss most about high school?
RW: The colleges on my list are not in my hometown right now, so I'll definitely miss just having my friends and family at a nearby reach. But I also do acknowledge that college is a place where you can expand your horizons and also push yourself to be comfortable in uncomfortable situations.
This interview has been condensed and edited for clarity.