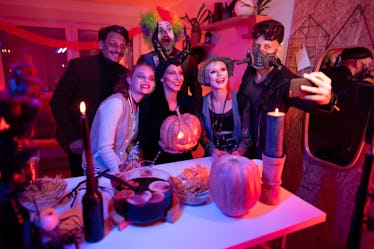 9 Halloween Costumes To Wear With Jeans That Are Both Foolproof And Cute
There's no need to go to the store for these disguises.
SrdjanPav/E+/Getty Images
Even though it's pretty much a sin to not dress up for Halloween, it can be hard to find the motivation on a cold October night. However, since the holiday falls on a Sunday this year, you'll have plenty of opportunities to dress up all weekend long. Whether you've run out of costume ideas or you just want something you can throw together for a Halloween party, there are plenty of easy Halloween costumes with jeans that you can put together pretty quickly and are really budget-friendly. You can make a costume with what you have in your closet, as long as you're willing to get creative.
With some inspiration and a creative mind, before you know it, you'll be able to come up with an easy costume in no time. Plenty of your fave TV and movie characters wear jeans on the regular (or something that looks like jeans), and you can tone down any other costume to include your favorite pair of denim. At the very least, you can put on a solid colored shirt and a pair of animal ears, and call it a day. As long as you're dressed up at least a little, you can call your makeshift costume a success. Here are nine easy Halloween costume ideas that revolve around your go-to pair of jeans.