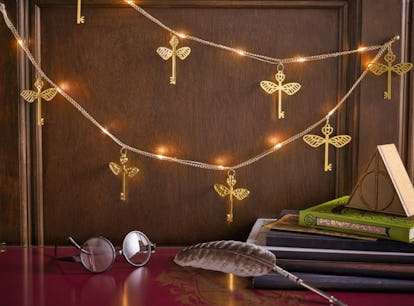 PB Teen's Harry Potter Dorm Decor Will Make Your Space So Magical
You'll want to accio these pieces ASAP.
If you're heading off to "muggle" Hogwarts, aka college, you're probably thinking about how you're going to decorate your dorm for the new school year. It can be overwhelming to pick out each decor piece for your college vibe, on top of preparing for classes and packing up your room back home. Pottery Barn Teen's Harry Potter dorm decor for 2022 has tons of iconic pieces to help you stay organized and turn your boring dorm space into an enchanted chamber for practicing all those spells and potions.
Whatever your major is at college, whether it's similar to "Herbology," "Defense Against The Dark Arts," "Astronomy," or "History of Magic," you'll want to create a cozy space for long study sessions as you earn your degree. When you're shopping for dorm decor, it's important to grab things that are as functional as they are stylish, since you only have so much space on your side of the dorm room. Linens, lighting, and storage are essentials for your home away from home, and Pottery Barn Teen has you covered with all kinds of Harry Potter-themed dorm items.
With decor inspired by the Wizarding World, you can match your room decor to your Hogwarts house for an extra dose of academic inspiration. Embody the courage of Gryffindor with Pottery Barn Teen's crest trunk or be studious like a Ravenclaw and snuggle up with a chenille house throw blanket. Scroll through to check out the most magical dorm decor from Potter Barn Teen's Harry Potter collection.
We may receive a portion of sales if you purchase a product through a link in this article.