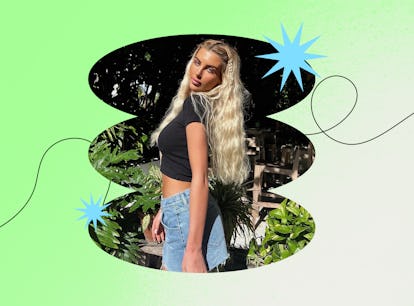 Paige Lorenze Is Here For The Horse Girl Comeback
Say howdy to the content creator behind Dairy Boy.
Elite Daily; Paige Lorenze
Paige Lorenze doesn't believe in the phrase "New York or nowhere." She found the opposite to be true when she moved to Connecticut in September 2022 after five years of living in the city. "It felt like a weight off my shoulders," says the 25-year-old creator, who is known for her lifestyle and fashion content. Lorenze is originally from Connecticut and was raised in Vermont, and she had been craving a return to a more rural lifestyle for some time. "I'm so glad I did my time in the city, but I'm also so glad I left."
Since her move, Lorenze's online vibe has understandably shifted. Now, her pages are full of barn vlogs, home-cooked meal ideas, and horse-riding videos. "In New York, I always felt like I was selling something that wasn't fully me," she says. "Now, my content is really is a reflection of the things that I love and the life that I actually want to live."
Despite the major change, some things have stayed consistent for Lorenze: A horse girl through and through, she's been wearing cowboy boots for years, whether in SoHo or at the stables. Now that she's moved, however, she's able to embrace that coastal cowgirl vibe more fully, both with her content and her aesthetically pleasing lifestyle brand, Dairy Boy.
"Dairy Boy is just me," she says. Lorenze's brand sells everything from work coats to candles (coming soon), and no, it's not exclusive to milk drinkers — even if Lorenze is one. "It's about being proud of where you're from. It's about living a simpler life. It's about confidence and embracing the grounded feeling you get from spending time outside."
Here, Lorenze opens up about her move, Dairy Boy, and having a job in the public eye.
Elite Daily: NYC is a hub for TikTok creators. What was it like to take a step away from that and move to Connecticut?
Paige Lorenze: It was great, honestly. I had wanted to do it for a long time. Even when I was based in New York, I was constantly leaving and testing out new places. I lived in Nashville and L.A. I was constantly searching for my perfect city, but I wasn't finding it. Then, I realized it doesn't exist, and that's totally fine. For me, Connecticut was the right choice.
ED: It sounds like you're really happy. What's your favorite part of living there?
PL: A slower pace of life and the fact that I get to ride my horse every day. I know that's a little bit niche to me and my interests. A lot of people who live around here might be bored and struggle to find things that they enjoy. But for me, I get to see my family and my best friends. We cook dinner, go for hikes, and spend time outside. It's the simpler things, but it's really fulfilling.
ED: You mentioned you love riding your horse in Connecticut. As a self-proclaimed horse girl, what's it like to welcome that identity and flip it around a bit?
PL: I love that it's traditionally seen as something negative, but if you embrace it — like, if you put "horse girl" on a T-shirt and wear it with confidence — it becomes a positive. I literally live for it. The popularity of Yellowstone has helped, too. I'm not coining the horse girl comeback, but it is good timing for me.
The horse girls that I grew up with were very confident, maybe a little crazy, but mostly confident. They are some of the most bad*ss girls, and I think owning that is so important. Guys are scared of horse girls, too, which I love.
I'm a lot of things. I wear fake nails, and I ride horses. I like to get my hair blown out, but I also wear Carhartt.
ED: Besides loving "horse girl" t-shirts, how else would you describe your style?
PL: It's really a representation of everywhere I've been: partially living in nature, but also living in Manhattan. I shop a lot of vintage, and I've invested in a lot of really good staples, like long sleeves and baby tees. I have so much good denim — a lot of Levi's, 501s or men's. I'll bring them to a tailor. That's huge: If you find a wash that you really love and it fits you generally, you can always get it taken in.
ED: Your denim collection is so impressive. Do you have any other tips for imitating your style and aesthetic?
PL: We're actually launching a denim collection at Dairy Boy. I'm hoping it'll be ready for this summer. I'm really excited about it. It's so hard for girls to find good vintage denim, and I totally get it. I'm just a junkie who has literally scoured the earth for perfect pairs, but I know that not everyone can do that. So, the goal is to create a vintage cut product that is easy to buy.
Beyond denim, with Dairy Boy, I want to build a brand that is a reflection of my style and aesthetic. I'm making the work jackets I love, the denim I love, the candles I love. Eventually, I'm extending into homeware, too.
ED: From creating content to growing a brand, you must be really busy. How do you prioritize self-care and mental health?
PL: I only just started doing a really good job of that when I left New York. It feels really good to have my own home. It's not my boyfriend's; it's not anyone else's. I have my own solid foundation, and that's made a huge difference. Riding again has also helped my mental health. It was a really important part of my life when I was younger, so getting back into it is literally therapy for me.
ED: What's the best part of sharing your life so publicly? What about the hardest?
PL: The best part is the creative freedom I get. I am the creative director of almost everything that I do — even ads. I've made great friends, too. Remi Bader is one of my closest friends, but there's not one influencer I've had a bad experience with, honestly.
The worst part of the job is ... well, having to grow up online is hard. I've been doing this for five years now. In that time, I've changed a lot and made a lot of mistakes. People try to highlight your mistakes instead of the ways you've grown.
ED: Tell me more about your relationship with other content creators. What's the influencer life really like?
PL: Remi worked a normal job and then blew up on TikTok for just being authentically herself. A lot of my friends are like that. We're all pretty normal. Maybe it doesn't seem like that sometimes because of the lifestyle that people might display. But the girls in New York hustle, and they're putting out a lot of content, which I respect a lot. People think that common creators just hang out and have smoothies. And I don't know if maybe that happens other places — the no-work ethic — but a lot of my girls in New York do work really hard.
ED: Do you think there are any misconceptions out there surrounding you and your content?
PL: People who are negative online have a hard time seeing creators grow up or come into their own. I've gotten hate comments saying things like "She's cosplaying this country life." But I grew up on land with horses in a small Connecticut town, and then at a young age moved to the mountains in Vermont. This is just me going back to my roots and living the life that I grew up with.
On social media, people like to pigeonhole you as one thing. I'm a lot of things. I wear fake nails and I ride horses. I like to get my hair blown out, but I also wear Carhartt. The reality is I love it all, and people hate that.
ED: I'd imagine the online hate gets really intense.
PL: This job is pretty inhumane. It's not natural. And there's so much hate online. It doesn't rattle me as much anymore because I'm more confident, and I've built a foundation for myself. You have to learn that not everyone's going to understand you and let go of that.
ED: How do you stop it from getting to you?
PL: I'm realizing that the hate comments are just not that deep. It's a quick word-vomit of anger, based off someone's own insecurity, and then they move on with their day. It's not real life. I know what's real, and that's most important.
This interview has been condensed and edited for clarity.