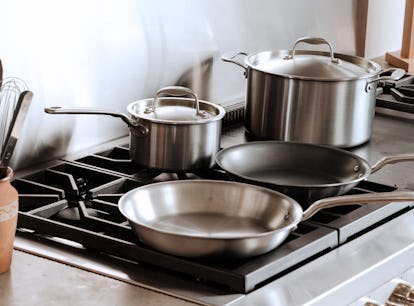 A Mother's Day Gift Guide To The Best Cookware Sets
Show your favorite foodie some love.
We may receive a portion of sales if you purchase a product through a link in this article.
Whether she's a seasoned baker or loves to entertain a crowd, the search for the perfect Mother's Day gift for foodies can begin and end with this gift guide to the best cookware from Made In Cookware. The go-to brand for home chefs and award-winning James Beard pros, its collection of American-made products has garnered over 100,000 five-star reviews. It's hard to go wrong here; there's something for every type of cooking aficionado.
For The Mom Who Loves To Bake
Baking is an art form, so give the baker in your life a bakeware set that will make them proud to show off their handiwork. The Bakeware Set by Made in Cookware — which includes three classic rectangle, square, and oval dishes — is made from high-quality French porcelain that skilled artisans in the Loire Valley bake three times for over 50 hours for the perfect turnout.
As stylish as it is robust (the navy trim is particularly elegant), The Bakeware Set's nonstick and thermal shock-resistant porcelain works like a charm when it comes to even heating, so mom can experience crisp corners, gooey middles, and no under- or over-baked spots.
If your mom's one for whipping up slab pies, focaccia, and sheet cakes, Made In's Porcelain Baking Slab will be a hit. A collaboration with renowned chef, baker, and author Nancy Silverton, it's as striking as the matching 3-piece Bakeware Set and is crafted from the same durable-yet-chic French porcelain.
For The Mom Who Does It All
Whether she cooks like Julia Child or is new to cooking, the Made In Cookware 6-Piece Stainless Set has all culinary bases covered. It includes three of the brand's award-winning kitchen must-haves — two frying pans, a saucepan, and a stock pot — and each one is constructed from five layers of metal for improved heat conduction, which helps prevent those dreaded stuck-on messes. Each piece is made with a convenient rolled rim that allows for easy pouring without spillage. Best of all? They're designed to last a lifetime with proper care.
Featuring a griddle, paella pan, and grill frying pan, moms who love to barbecue will have everything they need to perfect cookouts with Made in Cookware's Carbon Grilling Set. Made from high-performance carbon steel — a hybrid of stainless clad and cast iron — the grill frying pan's 62 dime-sized perforations amplify flame contact, while the paella pan's talents extend beyond rice dishes. Thanks to its low walls, you can also use it for searing, pan sauces, and infusing meat and ingredients with that rich, smoky flavor.
For The Organized Mom
Master preppers whose goal is to get dinner done in the fastest, most efficient way will love Made in Cookware's Mise en Place Prep Set. The perfect all-in-one solution for faster prep and tidier cooking, the set has a chef knife, butcher block, and four hard-wearing ceramic Mise en Place bowls, which range in size from three to seven inches. Sharp, clean slices are a cinch with the chef knife, as it's fully forged from a single rod of stainless steel and has a slip-resistant polymer handle. The butcher block is also smartly designed with a groove to catch run-off juices.
Not only does the Made In Cookware Knife Organizer Set free up precious counter space, it also helps to keep knives razor-sharp and kitchen decor on point with its minimalist design. Made from sustainably-sourced Italian beechwood and with nonslip rubber feet, this nine-piece organizer holds up to five large knives and four small paring and steak knives. And it comes with a three-piece extension that stores two additional large knives and one small knife, all of which are held safely in place with ultra-strong neodymium magnets.
For The Mom Who Feeds A Crowd
No kitchen — or stew — is complete without the perfect crockpot, and this Made in Cookware Dutch Oven gives passed-down family heirloom vibes. Made of enameled cast iron from Northeast France, where craftsmen have been pouring professional-grade cast iron since the early 1920s, it's beloved for its exceptional heat retention and circulation (this beauty is made to transform even the toughest cuts into tender, fall-off-the-bone braises). It's also nonstick for easy cleaning and has a lid with pea-sized dimples to trap steam and retain moisture.
The Made in Cookware Stainless Clad Stock Pot is a godsend when you're feeding hungry hordes. Part of the brand's award-winning Stainless Clad Collection, the Stock Pot is engineered to create a rolling boil in minutes. Constructed from five layers of premium metal for serious durability— and to prevent hot spots and stuck-on messes — the 360-degree cladding improves heat circulation for consistent cooking whether mom's blanching, canning, or making stock. She'll also love the two looped handles and angled rim for easy transportation and pouring, as well as the tight-fitting lid that traps steam to lock in all those juicy flavors.
For The Mom Who Loves To Entertain
Perfect for family-style pasta, salads, and roasted vegetables, the Made in Cookware Serving Bowl — in antique white with a stylish navy rim — is a chic centerpiece for any table. Built to last, it's oven (up to 580 degrees Fahrenheit), microwave, and dishwasher safe. It's also been fully glazed for chip, scratch, and stain resistance.
What good is all that wonderful cooking without a delicious pinot to wash it down? Level up your drinkware with the Made In Cookware Decanter With 4 Red Wine Glasses Set. Made in Italy and designed to enhance the flavor of your bottle, this chic, compact decanter with an easy-pour neck won't take up too much space on your table — but it will oxygenate your wine to give it a deeper, more complex flavor profile. Accompanying the decanter are four red wine glasses that come with titanium-reinforced stems to prevent breakage.
For The Charitable Mom
Cooking is about sharing the love, and your mom can do just that with Made In Cookware's new limited-edition Hudson Green Collection. Recently launched, the cookware set is a collaboration between the brand and chef Brooke Williamson, winner of Bravo's Top Chef Season 14 and owner of California restaurant Playa Provisions. Custom-designed in a gorgeous shade of green, 15% of all sales will go to No Kid Hungry, a national campaign dedicated to ending childhood hunger in America.
Curated by Williamson to include all of her favorite essentials, the Hudson Green Collection features an Enameled Cast Iron Set (complete with dutch oven, oval dutch Oven, and skillet), a 3-Piece Non-Stick Frying Pan Set, the Mise en Place Set (which includes four bowls of various sizes), a 6-Inch Chef Knife, and the Silicone Universal Lid.
This article was originally published on