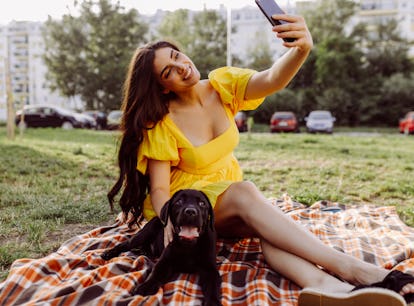 25 March Captions And Quotes For Spring Instagrams And Brighter Days Ahead
DjordjeDjurdjevic/E+/Getty Images
Now that February has passed, the days are getting longer and the flowers are starting to poke up through the ground. March has finally arrived, and with it comes more optimism and anticipation for brighter days ahead. If you're ready to enjoy outdoor walks again and snap a few photos of your growing garden, you'll definitely want a few March captions and quotes in your back pocket to celebrate the month full of possibilities.
If you live in a chilly place like I do, it tends to still feel like winter in March. A lot of times, there's even still snow on the ground. That said, there's still something special about the month of March, and even if you can't feel spring just yet, there are certain signs that it's on its way. There's more hours of sunshine to enjoy, the stores start hauling out all their gardening gear, and the birds start chirping again. In addition to serving as a harbinger for warmer days ahead, March is also the time to celebrate Women's History Month, Mardi Gras, and St. Patrick's Day.
Whether you're meeting up with friends in your all-green attire or take your pup to the park this month, you'll need a few March quotes to get your Instagram feed excited for the official arrival of spring. So, gather up your crew and head outside to snap a few spring pics in your favorite florals. Then, be sure to grab a few March captions for Instagram to show your feed that brighter days are just around the corner.
"March is a tomboy with tousled hair, a mischievous smile, mud on her shoes and a laugh in her voice."― Hal Borland
"March is the month God created to show people who don't drink what a hangover is like."― Garrison Keillor
"Springtime is the land awakening. The March winds are the morning yawn." — Lewis Grizzard
"Time to March to the beat of your own drum."
"Marching forward into spring."
"Spring is nature's way of saying 'let's party.'" — Robin Williams
"I'm sorry for all the things I said when it was February."
"It's the perfect time of year for a new beginning."
"Well hello there, March."
"I was made for sunny days."
"March is the month of expectation, the things we do not know." — Emily Dickinson
"After a certain age, time just drizzles down upon your head like rain in the month of March." — Elizabeth Gilbert
"No rain, no flowers."
"March puts a little spring in my step."
"I decided that February was a trial month. I'll sort my life out in March."
"All right spring, do your thing."
"Here comes the sun."
"It was one of those March days when the sun shines hot and the wind blows cold: when it is summer in the light, and winter in the shade." ― Charles Dickens
"By March, the worst of the winter would be over. The snow would thaw, the rivers begin to run and the world would wake into itself again." ―Neil Gaiman
"An optimist is the human personification of spring." – Susan J. Bissonette
"March comes in like a lion and goes out like a lamb." ―English Proverb
"Flowers and colors everywhere, I am so glad that March is here." – Anamika Mishra
"Life is better in the garden."
"February makes a bridge and March breaks it." – George Hebert
"Happiness is waking up to a sunny day in March."