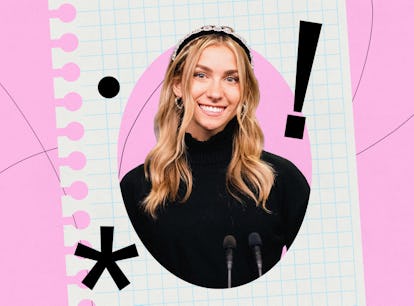 This College Junior Is Forging Her Own Path In Sports Journalism
Katie Feeney has reported from the Super Bowl and the White House.
Elite Daily; Olvia Pasquale
Attending college was always a given for 20-year-old communications major Katie Feeney — even after her social media following skyrocketed through the millions while she was still in high school, posting about lifestyle trends. Now, the Penn State junior from Olney, Maryland, is blazing her own trail to a career in sports journalism. She's marrying social media with traditional broadcasting by reporting via her iPhone for TikTok, YouTube Shorts, Instagram, and Snapchat.
Never mind her 7.4 million followers on TikTok, 930,000 on Instagram, 3.3 million subscribers on YouTube, and 1.1 million on Snapchat — in April 2022, Feeney was signed on as the first-ever social media correspondent for the Washington Commanders, has already reported from Super Bowl LV, and in November 2022 became a White House social media correspondent for AKSM Media.
While Feeney might be best known for her behind-the-scenes snippets from games, White House events, and training camps, she's adamant that her "lane" is simply Katie and is not defined by any one niche. She also posts OOTDs, trends, GRWMs, unboxings, day-in-the-life shorts, and other lifestyle content about college life.
Below, Feeney tells Elite Daily about her path to sports journalism and the most important lessons she's learned along the way.
Elite Daily: You're heading into your junior year at Pennsylvania State University. What led you there?
Katie Feeney: Originally I was planning to go to the University of Maryland, my home school. It made the most sense financially, and my brothers went there. But I started making my own money through social media and was able to pay for my own college.
Penn State is a huge football school, which was the aspect that led me here the most. The spirit here is unlike anything I've ever seen before. I've always been surrounded by sports; I played them growing up and danced my whole life. And although the campus is huge, it's not surrounded by a big city — it's kind of in the middle of nowhere, but that's what I love about it.
ED: What has been your favorite part of college life so far?
KF: Football season is definitely the best time at Penn State. Until you go to a Penn State game, it's hard to even describe, but the students are just so spirited. There's also Penn State THON, which is the largest student-run philanthropy [in the world]. I was able to get really involved with that during my freshman and sophomore years, and we raised money for childhood cancer research.
ED: You're all about the college content now, but you've been an influencer since long before that. How and when did you first get started on social media?
KF: I started in middle school on Musical.ly — I made those cringey videos for fun with my friends. Then I made a lot of dance videos because I was dancing for hours a day, and some started to go viral, and I gained a bit of a following. Once I got into high school, I'd make TikTok videos with my friends, but I stopped for a little bit because being known as the "TikTok girl" was hard for me.
But I had this realization one night, thinking "Why am I going to let all of these opinions affect what I love to do?" So I continued and started doing lifestyle content like unboxing videos. Once YouTube Shorts came out, I posted all the time and went from 20,000 subs to 3.3 million.
ED: You initially developed your following by doing lifestyle content. How did you start incorporating sports?
KF: I didn't start doing that until coming to Penn State. Although I loved that it was a big football school, I was just thinking I'd post relatable college content. But when I first went on the field for a Penn State game as a freshman, everything changed.
My first game was the Penn State White Out [a tradition in which all spectators wear white], which is a huge game when it comes to Big Ten football. I captured it through my point of view: the atmosphere, the excitement. There's nothing I didn't love about it. I cried at the end of the game, thinking "This is the best thing ever. I've never experienced anything like this." I knew from that moment on that I wanted to do something in sports.
ED: Were there any specific experiences that led you to pursue sports broadcasting specifically?
KF: My first really big experience in sports was the Super Bowl in 2022. I went with YouTube, and I had never seen that level of professional sports or been surrounded by other broadcasters at press interviews. While I was there, I posted 50 YouTube Shorts, and they got a total of 35 million views. It sparked something in my head: This is kind of a different version of broadcasting — it's me talking to my phone instead of holding a microphone.
ED: Your first big gig was with the Washington Commanders as their first social media correspondent in April 2022. How did this influence your future career aspirations?
KF: That was a surreal moment. I was able to go on the field for a bunch of games and go to their training camps. I captured a lot of behind the scenes to show the atmosphere at FedExField. I love getting to show people things they wouldn't normally be able to see. Reaching a younger fan base is a goal of mine — getting people to fall in love with football who maybe have never watched a game before.
ED: You're also newly a White House social media correspondent for AKSM Media. What's a day in the life like?
KF: I do a lot of the special event coverage. I go to D.C. a few times a year for events like the [official unveiling of White House holiday decor]. I went when the Super Bowl LVII champs Kansas City Chiefs visited and captured everything that goes on that you wouldn't normally see on TV.
Whatever is going on that day, I'll capture it on my phone and edit it. We'll do a lot of practice standup, so I'll have an actual camera and practice talking about the event, which is new to me because it's definitely broadcasting as opposed to the social media I normally do. It's been cool to merge the two.
ED: As a student juggling many passions, what have you learned about yourself?
KF: I love to do it all. I used to struggle with picking a niche to focus on. I like to unbox packages; I like to talk about makeup, beauty, and fashion; and I also love sports. But my niche is myself — these are all the things I love to do, and at the end of the day, if you love something, you just have to go for it. The only person's opinion that matters is your own.
ED: What direction you are hoping to take your journalism and media career after college?
KF: In the short term, I want to start making long-form YouTube videos. My long-term goals are to continue to work in the sports industry and to take my followers along with me on my journey. I want to explore other sports along with football — maybe hockey or NBA. Social media in the sports world is still very new.
I would also love to have my own podcast and my own business. For a podcast, I'd like to be able to share words of wisdom going from being a teenage girl to now in college, and talk about health and fitness and what it's like being a woman in sports. Not only the cool things I've been able to do, but also the everyday stuff that everyone deals with. I'm exploring every lane possible, but I think that's OK. I don't think I have to pick one.
This interview has been condensed and edited for clarity.