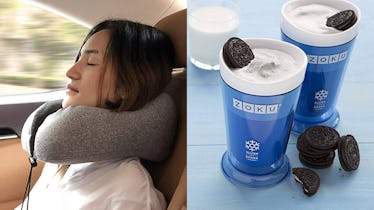 I'm Obsessed With These 50 Clever Products On Amazon's Bestsellers List
We only recommend products we love and that we think you will, too. We may receive a portion of sales from products purchased from this article, which was written by our Commerce team.
Amazon
Most of us have that one friend who has an answer for everything (even when all you really want to do is complain). Whatever's getting you down, they've got a remedy for it — and so does Amazon, like all these bestselling products that are super clever. I mean seriously, Amazon, we were totally fine out here floundering around on our own. (Not really.)
And writing this column has turned me into a one of those perennially helpful advice-givers too. Whether you're a close friend or a rideshare driver, I'm liable to give you an encyclopedia's worth of shopping knowledge about any and every product, thanks to all the time I spend in the online shopping world. For example, if you're bemoaning the flimsiness and aesthetic inferiority of the reusable shopping bags you buy on impulse at the checkout, I'll probably tell you about the 3,000-plus Amazon reviewers who absolutely swear by this sturdy canvas tote that holds up to 30 pounds and somehow manages to make a trip to the store look stylish.
So get your "Add to Cart" clicking finger ready, because this list of Amazon bestsellers is 100% obsession-worthy. Get them and see if you don't become the friend in your circle with all the answers, too.
This article was originally published on