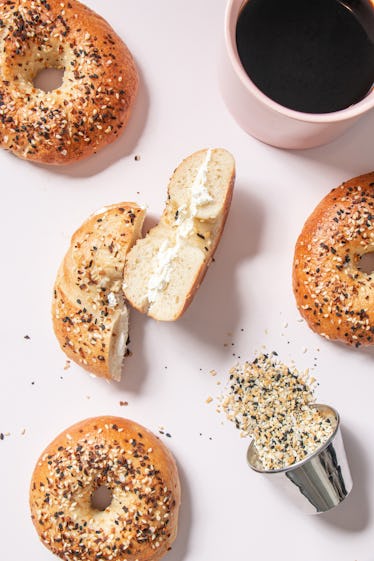 How To Make This Easy TikTok Bagel Recipe With Just 2 Ingredients
Shutterstock
Bagels are their own breakfast food group, basically. There's no better savory treat than a stacked breakfast bagel sandwich with runny eggs, salty sausage, and, some velvety cream cheese, of course. Bagels are the best for a reason — they're a portable, grab-and-go bite you can always rely on to hit the spot. You may have a favorite bagel shop you love to visit on the way to work, but you'd be surprised at how easy they are to make at home. TikTokers are sharing a simple, two-ingredient bagel recipe you can make at home for the whole week, and they're naturally packed with nutritious protein.
Bagel making isn't necessarily anything new when it comes to boiling the dough in the right water and baking them off for a crispy crust. But you don't have to go gourmet to replicate the soft, fluffy rings at home. This easy TikTok bagel recipe only requires an oven and a few ingredients to stock your kitchen with a week's worth of breakfast. The best part is that these bagels have a 20 grams of natural protein, because the secret ingredient in the dough is Greek yogurt.
The dough itself isn't inherently savory, so you can add any kind of flavoring you want. @paigelindgren showed how she meal preps her bagel breakfast in a TikTok, saying she likes to switch up her mix-ins with blueberries, everything bagel seasoning, or a simple pinch of salt. You could also knead in raisins, olives, jalapeños, or even try out a DIY rainbow bagel. Just before she bakes the dough in the oven, Paige brushes egg wash or sprays cooking oil on tops for a golden crust. After that, the topping possibilities are endless. You can sprinkle on poppyseeds, sesame seeds, oats, or garlic. You might even decide to split up the batch of dough to make a different bagel for each morning of the week, depending on your cravings.
How To Make TikTok's Bagel Recipe With Just 2 Ingredients
To make four bagels, you'll need:
1 cup self-rising flour
1 cup 0% Greek Yogurt
Any mix-ins of choice
Preheat your oven to 400 degrees fahrenheit.
In a large bowl, knead together the flour and yogurt into a smooth dough.
Separate the dough into four even portions. Then, roll each ball of dough into rope shapes and form into bagel rings.
Place the bagels on a lined baking sheet. Brush a light layer of egg wash or a spritz of oil spray on top of each bagel and sprinkle on flavorings of choice, such as salt, cinnamon, or everything bagel season.
Bake in the oven for about 20 minutes until golden. Let cool, add on spreads and fillings, and enjoy.
If you don't have self-rising flour on hand, Paige says you can sub it for one cup of regular flour combined with one teaspoon of baking soda and one teaspoon baking powder for the same effect. The bagel dough comes out soft on the inside and crunchy on the outside like any classic bagel, and you can repurpose the recipe for other fun ideas like homemade pizza, soft baked pretzels, or a crusty loaf of dinner bread.