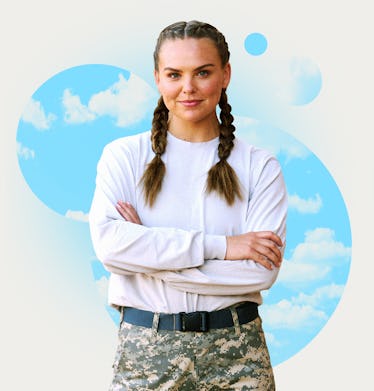 Hannah Brown Has The Cutest Self-Care Ritual With Her Boyfriend
Plus, the one beauty product from her Bachelor days she still swears by.
Elite Daily; Fox
Hannah Brown is in her "that girl" era. Five years after the Bachelor Nation star introduced herself as "the beast" on The Bachelor Season 23 before helming her own Bachelorette season, Brown tells Elite Daily that her life has "completely changed" and she's using the lessons she's learned over the years to take her self-care up a notch. For one, the 28-year-old's over the drama of finding love on reality TV — she's happily dating boyfriend model Adam Woolard, whom she met on a dating app. Instead, the former beauty pageant star is returning to the screen as a contestant on the physically and mentally grueling Fox series Special Forces: World's Toughest Test, a celeb competition show that simulates the Special Forces selection process.
Training with actual ex-Special Forces members post-Bachelor might not be the trajectory that anyone saw coming, but Brown says it was the perfect test after working on herself over the past few years. "Life was very different after The Bachelor, and I had to do a lot of reflection," she tells Elite Daily in an exclusive interview.
Returning to TV, Brown says she was much better prepared to handle some of the harshest physical and mental challenges Special Forces threw at her. Below, she shares the best self-care tips she's learned from being on reality TV, her go-to skin care routine, and the beauty and wellness habits from her Bachelor days that she still swears by.
This interview has been edited and condensed for clarity.
Elite Daily: What made you decide to compete on a show like Special Forces post-Bachelor and Dancing With the Stars?
Hannah Brown: It's been three years since I've done any type of reality TV, and I feel like Special Forces is a transformative show for every recruit that was on there. It really tested everything that I've been working on within myself the past few years, like learning to trust myself again, to recognize just how strong and resilient I can be, both physically and mentally. I mean, it's an experience money can't buy.
ED: Taking care of your mental health is important on any reality TV show. What are the best self-care tips you learned from being in the Bachelor franchise that helped you with Special Forces?
HB: I learned how to shut out all other thoughts and be really plugged in the moment. When you're a Bachelor contestant, you're present because you're waiting all day to have one conversation to help progress your relationship. But then as the Bachelorette, when you're having conversations all day, you have to focus on being present with the person that you're in a relationship with at that moment and trying to take that connection to the next level every single time.
Being on The Bachelor and Bachelorette helped me on Special Forces because on those shows, you are also cut off from the outside world, don't have your phone, and can't talk to people that aren't in the experience. It might not have been great when you're making relationship decisions, but it really helped with connecting and being in the moment.
ED: How do you handle Special Forces' physical stress, in addition to the mental and emotional stressors that come from competing on reality TV?
HB: It was about really trusting myself for what I can and can't do by staying in tune with my body and my mind.
ED: What does your support system for Special Forces look like?
HB: I've definitely gotten close to people that I've done other reality shows with, but immediately when we got there, we were stripping our clothes, we were in the mud, and having to go through these physically and mentally stripping experiences of our ego and what we think of ourselves. Going through this experience with 15 other people, you get really close really quickly because you have to have people that you can rely on when you're at your weakest.
ED: Who were some of your fellow contestants who inspired you?
At first, the athletes were a little bit intimidating, but then you realize that we all have our own weaknesses and strengths. There were other people like Jamie Lynn Spears or Mel B who were so encouraging, even when they were struggling themselves. You need people for both mental support and physical support, and I can honestly say I was inspired by every single person on that show because we were all put in these really uncomfortable positions but people continued forward to take the next step or take the next jump, even when they were scared.
ED: When you're not filming a show, what does your morning and night routine look like?
HB: I usually take a shower before I go to bed just to get all the day's grit off. So it's kind of similar to my morning, but I always read before I go to bed. Instead of doing a more self-help type book, which I would do in the morning when I journal, I usually read some type of fiction book at night. Right now, I'm reading the Court of Thorns and Roses series, and sometimes I'll stay up a little bit longer than I should reading it.
ED: What is one skin care product/makeup product that was a game-changer for you on The Bachelor/ette?
HB: Gosh, the Charlotte Tilbury Airbrush Flawless Filter powder was my absolute favorite thing I wore on The Bachelor and continue to wear. You're always on camera, it gets hot, you get shiny — it's just truly the best powder. My makeup artist when I was on The Bachelorette always used Charlotte Tilbury Pillow Talk on me, and I still keep it with me now. It's always in my purse.
ED: What about some self-care products you swear by in general?
HB: In the morning, I love taking the extra time to put on some eye patches or a cooling eye mask from Skyn Iceland. Before I go to sleep, putting on the Laneige sleeping mask. When it's colder and rainier, I like a good body scrub. I'm obsessed with the Ouia one, then I lather on some L'Occitane lotion, which has a milky texture.
ED: What are some ways you practice self-care without products?
HB: When I'm in a negative head space, going on walks — and listening to a podcast or doing a walking meditation — helps me get out of that environment and change my surroundings, which is something that's very pivotal in my self-care. Playing with my dog is also so helpful and comforting for me. He changes my outlook, makes me be silly and goofy, and watching him being silly and goofy and just having those cuddles really ups my my serotonin.
Also just shutting off my phone and TV to read book, or just having great conversations with my boyfriend or friends. A phone call to somebody that you love is always really helpful too.
ED: Fans love seeing you and your BF Adam Woolard on social. Have you swapped any self-care tools or routines?
HB: He meditates every morning and multiple times throughout the day, so he's definitely been the person that's helped me get into meditation. One of our favorite things to do is going on walks with either my dog, Wally, or just us two. It's always great to just be able to unwind after the day during an afternoon stroll, hold hands, and debrief about our day. And talk about different ideas and goals, hopes, and dreams together. Really, that's what were talking about the other day. It's just something that we love to do together.