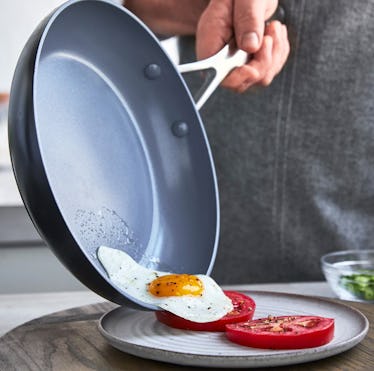 This Ceramic Cookware Is A Double Award Winner — & Right Now The 3-Piece Set Is 55% Off
This set solves some of nonstick cookware's most common problems.
We may receive a portion of sales if you purchase a product through a link in this article.
If you like to really put your kitchen gear to work, there's a chance you've been unimpressed by most nonstick cookware, since the delicate coatings can be compromised by high temperatures, or scratched when used with metal utensils. For some people, these cons can outweigh the convenience of easy cleanup. GreenPan's award-winning ceramic nonstick cookware seems to be a rare exception to those common drawbacks, and right now the brand's three-piece Valencia Pro frying pan set is 55% off, making this a good opportunity to take the leap with ceramic cookware (or beef up an existing set).
So, how does GreenPan's Valencia collection differ from your standard nonstick cookware? Not only are the pans dishwasher safe, but they can be used with metal utensils (most nonstick can only handle wood or silicone tools) and they're heat-resistant up to 600 degrees Fahrenheit. For comparison, Food Network points out that most nonstick cookware maxes out at 350 degrees Fahrenheit, or 500 degrees Fahrenheit at the far end of the spectrum. To boot, the Valencia Pro pans can go in the broiler and oven; that versatility means you can sear meats on the stove before finishing them off in the oven, or bake frittatas or a batch of cornbread — tasks that would normally require stainless steel or cast iron and a considerable amount of post-cooking cleanup.
In addition to winning over thousands of fans on Amazon, the pans have racked up some notable accolades. America's Test Kitchen named the Valencia Pro 12-inch pan its top pick for 12-inch ceramic nonstick skillets of 2023. (Note that the 12-inch pan isn't included in the sale set — but you'll get comparable results with the 11-inch pan.) The Valencia Pro Collection was also awarded Good Housekeeping's 2023 Sustainability Innovation Award, a recognition that not only takes cooking performance into account, but also considers factors like energy, water, and waste reductions, use of recycled content, plus recyclability and reusability of packaging. In other words, if you're working toward a more sustainable kitchen, this line of cookware is worth your consideration.
The Valencia Pro pans are constructed from recycled hard-anodized aluminum for scratch resistance and finished with GreenPan's patented ceramic coating, which is designed to distribute heat evenly for consistent results and no hot spots. This coating is free of PFAs, PFOAs, lead, and cadmium, according to the brand. For context, the American Cancer Society states that products with PFOAs are no longer manufactured in the United States — but products with PFAS are, and while the long-term health effects are still mostly unknown, there is some concern surrounding their use.
The brand's Magneto magnetic base makes the pans compatible with any cooktop surface, including induction. If you want even more versatility from the pans, you can also buy glass lids from GreenPan, which fit snugly on the cookware for steaming and braising.
GreenPan's Valencia Pro collection includes several multi-piece sets as well as solo pans. But the line's three-piece frying pan set may be the most tempting option with its current steep discount. The set includes an 8-inch, 9.5-inch, and 11-inch pan, so you'll be fully equipped to whip up everything from a single fried egg to multi-serving meals for a crowd.
As far as storage goes, the pans nest together to take up minimal space in your cabinets, but care should be taken to separate them with a soft pad or towel to prevent damage (or you can hang them from their sturdy stainless steel handles). While hand washing is always a good idea if you want to extend the life of your cookware, the Valencia Pro pans are conveniently dishwasher safe for those nights when you want to cut down on post-meal cleanup.
About The Writer
Vanessa Spilios has been writing about cookware and kitchen appliances for Elite Daily since 2019. She previously worked in culinary product development and marketing at SharkNinja and consulted for Cuisinart Grilling, and she has extensive experience testing and evaluating housewares. Vanessa has reviewed products and created content for publishers including Bustle, The Kitchn, Apartment Therapy, Forbes Vetted, and America's Test Kitchen. She received her culinary training at Boston University, and enjoys developing original recipes, which she incorporates into private cooking classes for kids and families.
This article was originally published on