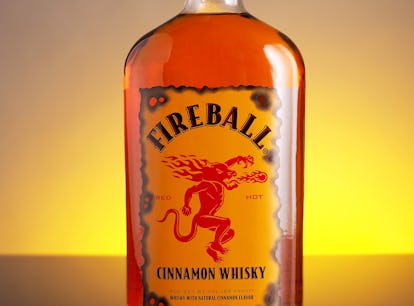 A Deep Dive Into Fireball Cinnamon Vs. Fireball Cinnamon Whisky
cislander/iStock Unreleased/Getty Images
Shots! Shots! Shots... of wine and malt beverage? That might be what you've been swigging if you haven't been looking closely at your bottle of Fireball Whisky. The tailgating favorite is under fire after a lawsuit filed on Jan. 7 claimed Fireball mini bottles at convenience stores and gas stations are "misleading" for not actually containing whisky. All cinnamon-flavored booze is not created equal, because the shot-sized bottles of Fireball you get at non-liquor store locations could be missing the booze you think you're getting. A look at Fireball Cinnamon versus Fireball Cinnamon Whisky will help you understand which one is a hard liquor, and why the other one doesn't get the whisky label.
In a Jan. 7 lawsuit brought on by Anna Marquez against Sazerac Company, the makers of Fireball, the suit claims that misleading marketing led her to believe Fireball Cinnamon, which is malt-based or wine-based (not whisky-based) was a whisky product. The lawsuit contains an image of what looks like a mini bottle of Fireball Cinnamon, and it reads in fine print, in part "natural whisky & other flavors." The image of the bottle does indicate it's a malt beverage, but according to the lawsuit, Marquez claims she paid more for a product that she thought contained whisky, but didn't. Per Forbes, the lawsuit also states that a more accurate representation would have been "natural whisky flavors & other flavors." The lawsuit is seeking "unspecified statutory and punitive damages" for anyone who bought Fireball Cinnamon in at least 12 states, including Illinois, where Marquez resides. Elite Daily reached out to Sazerac Company for comment on the lawsuit, but did not hear back at the time of publication.
In the wake of the lawsuit, the conversation turned to the differences between the two. The mini bottle of Fireball Cinnamon looks almost identical to a mini bottle of Fireball Cinnamon Whisky, but it doesn't say "Whisky" in the proper name of the product. In other words, Fireball Cinnamon is flavored to taste like whisky but doesn't contain any. According to Fireball's Frequently Asked Questions, Fireball Cinnamon "[captures] the essence of the Fireball Whisky tasting experience."
Fireball is truly testing your attention to detail, as the key difference between the labels is in the name. If the label reads "Fireball Cinnamon Whisky," you've got the real deal. But if it reads "Fireball Cinnamon," you've got the malt-based or wine-based version.
That's not to say Fireball Cinnamon won't get you buzzed. It contains less alcohol, but its malt- or wine-based content allows it to be sold at "beer, malt beverage, and wine stores," according to Fireball. Essentially, it's a way to market and sell Fireball outside of liquor stores, bars, and restaurants. If you're 21 or older, here's what to know about the differences between Fireball Cinnamon and Fireball Cinnamon Whisky.
Ingredients
You might not be able to tell the difference upon tasting, but Fireball Cinnamon is actually malt-based or wine-based, while Fireball Whisky is whisky-based, according to the company's website. They are both made using Fireball's "proprietary recipe," which is likely why they taste so similar. Plus, when you're taking shots, who's really reading the fine print?
Alcohol By Volume (ABV)
Due to its malt- or wine-based ingredients, the alcohol content in Fireball Cinnamon is lower. Per Fireball, the malt-based Fireball Cinnamon is 33 proof or 16.5% ABV, and the wine-based version is 42 proof or 21% ABV.
Meanwhile, Fireball Whisky also comes in two different alcohol levels. The OG Fireball is 66 proof or 33% ABV, and the lower alcohol content bottle comes in 42 proof or 21% ABV. Technically, the 42 proof Fireball Whisky will give you the same buzz as the wine-based Fireball Cinnamon, minus the whiskey. With a 33% ABV, Fireball Whisky is still only a whisky-based product, and it may not be viewed as a pure whisky. According to online spirits club Flaviar, whisky must have a minimum alcohol content of 40%. But, Fireball Whisky does contain whisky, so there's that.
Price
Since Fireball Cinnamon doesn't contain whiskey, it's priced slightly cheaper than its spirit-forward sibling. GoPuff sells a 10-pack of 50-milliliter mini bottles of Fireball Cinnamon for $10.99, while the same pack of Fireball Whisky is $12.99. If you're not bothered by the lack of whiskey and lower alcohol content, you can opt for the cheaper Fireball and still get the same signature cinnamon kick.
Availability
Where you get your Fireball could make all the difference to the product you're getting. Fireball Cinnamon can be found at convenience stores, gas stations, and stores where beer, wine, and malt beverages are sold. "Many states have laws that prohibit malt beverage and wine-based products being sold above a certain alcohol content," according to Fireball, so you'll likely see the Fireball Cinnamon in more spots.
You'll mainly find Fireball Whisky at liquor stores, bars, and restaurants, but availability may differ between states as some states permit the sale of liquor at grocery stores. Your best bet is to double-check the label. Who knew you'd have to start doing homework before you get the party started?