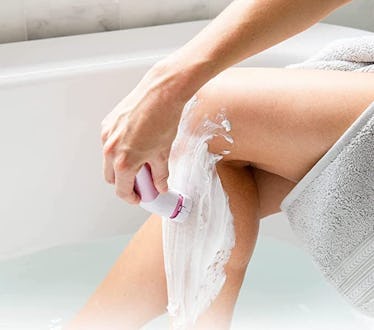 The 8 Best Women's Electric Razors
We only recommend products we love and that we think you will, too. We may receive a portion of sales from products purchased from this article, which was written by our Commerce team.
Amazon
If you choose to remove body or facial hair, you may have found using a manual razor to be a bit of a drag (hello razor burn!). But the right electric razor can make those nicks a thing of the past. Whether you prefer a full-featured unit that can be used from head to toe or you want a more targeted design, like a bikini trimmer or facial razor, the best women's electric razors offer a clean, painless shave with minimal irritation. Many shavers also have added features, like interchangeable heads, built-in LED lights, or the option to use it on wet and dry skin.
To help you find the best razor for your needs, consider the following:
Blade Type: Electric razors have one of two types of blades: foil, which have straight heads and require you to shave in an up-and-down motion (like a manual razor); or rotary, which are round and trim hairs via a circular motion. The vast majority of electric razors for women have foil blades, since they provide closer shaves with less risk of irritation, and allow for more precision. Rotary heads are naturally curved, however, so they may be better able to fit the contours of your body or face.
Wet/Dry Functionality: If you're used to shaving in the shower, opt for a razor that can be used wet or dry. This may be indicated by an IPX rating, which indicates the degree of waterproofness it offers. Wet-skin razors are easy to clean, too, since you can simply rinse them off between uses. Those that are solely meant for dry skin may be tougher to clean — though some come with little brushes that allow you to sweep away hairs collected in the cartridge, and some have removable heads that can be rinsed.
Power Source: An electric razor will either use batteries or power up with a charger. Battery models often come with the necessary AA or AAA batteries to get you going, but you'll need to consider the added expense of replacement batteries. Rechargeable options will conveniently be able to charge via USB or an outlet, but note that run times vary. Look for a model that can run on a single charge for at least 30 minutes, ideally 45 minutes, so you can complete your shave uninterrupted.
With that in mind, here are eight of the best women's electric razors on the market right now.