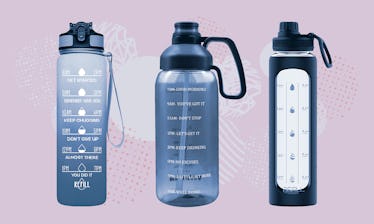 The 7 Best Water Bottles With Time Markings
It's time to get hydrated.
We may receive a portion of sales if you purchase a product through a link in this article.
It's no secret that adequate water intake is crucial for good health, but sometimes it's helpful to have a reminder to stay hydrated. The best water bottles with time markings have the right capacity for your needs and make drinking water feel like less of a chore. There are a few main factors to zero in on when you're considering your options.
What To Look For When Shopping For The Best Water Bottles With Time Markings
First, figure out how much water you aim to drink per day. While the common recommendation is eight 8-ounce glasses, your specific needs can vary depending on different factors, such as the weather and health conditions. The water bottles on my list fall in the range of 24 ounces (which might require at least one trip to the sink or water cooler for a refill) to as much as one gallon.
Next, decide on a material. Most plastic water bottles can handle a bit of wear and tear; those specifically made of Tritan are even shatter-resistant. If you prefer to avoid plastic, there are also glass water bottles. Designs with silicone sleeves will make glass bottles easier to grip and reduce the risk of breakage.
Of course, you'll want to keep your water bottle clean, so look for care instructions that match your preferred level of upkeep. Some water bottles are dishwasher safe while others require hand cleaning. One bottle on the list requires a specific regimen of scrubbing with a mixture of baking soda and vinegar. Consider buying a water bottle cleaning brush set to make maintenance easier — especially if your bottle features a narrow mouth or a straw.
Small design details count, too. Some water bottles come with strainers so that you can add fruit and infuse your drink with fun flavors, and others have positive quotes printed next to the time markings to keep you motivated. Plastic dust caps protect straws and spouts from contamination, and wide mouths are helpful if you want to add ice cubes to your drink. There are also bottles with multiple caps, so you can decide whether to sip from a straw or spout. In terms of portability, water bottles can come with carrying straps, handles on the cap, or handles built directly into the vessel.
With these considerations in mind, scroll down to see the best water bottles with time markings on Amazon right now.
Shop The Best Water Bottles With Time Markings
In a hurry? These are the top picks:
About The Recommender
Debbie Lee has been a shopping writer for Bustle since 2021 and has also written product roundups for sites like Mic and Inverse. Prior to this, she reviewed kitchen gear for Men's Journal and Food Republic. She used to drink water from plastic takeout containers when she worked as a chef, but she has since turned to more durable, well-designed options for staying hydrated.