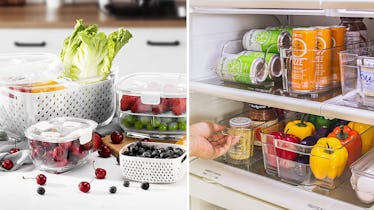 The 10 Best Storage Containers for Refrigerators
For everything from eggs to produce to leftovers.
We may receive a portion of sales if you purchase a product through a link in this article.
If you often find yourself throwing out food or buying excess at the grocery store because you forget what you have at home, it might be time to organize your refrigerator. The best storage containers for refrigerators are made of clear plastic or glass to keep food visible and accessible no matter which shelf they're on. Many are even stackable to fully utilize the vertical space in your fridge.
Things To Consider When Shopping For Refrigerator Storage Containers
Intended Purpose
Like with pantry organizers, the best refrigerator storage bins come in a variety of sizes and shapes conducive to most storage needs.
Consider exactly what you're looking to store. There are plenty of multipurpose containers, but for some things, a more item-specific option might be the best choice. Certain refrigerated items — such as eggs and cans, for example — might be better suited in containers specifically designed for their shape. Perishable items like fruits and vegetables are best in produce-specific crispers designed with lids and vents to help increase their shelf life. Also consider whether you're looking for these bins to stay in the refrigerator or double as to-go containers.
Stackable Design
Stackable refrigerator storage organizers ensure you're using both the width and height of your shelves. Typically, containers that include lids are the most easy to stack, while some containers without lids are still designed to be stacked so long as you don't overfill them.
Material
Most refrigerator storage containers are made of plastic or glass. Plastic containers tend to be less heavy, less expensive, and less likely to chip or shatter. Glass storage options, on the other hand, are usually slightly heavier and more fragile, but they do offer some advantages. Glass is nonporous, which means that it doesn't hold onto odors or become discolored the way plastic can, so you won't have to worry about it turning orange after storing your tomato sauce leftovers. Borosilicate glass in particular is more durable than regular glass, and it's often safe to use in the dishwasher, microwave, oven and freezer. So, if you're looking for something easy to meal prep with and clean, this might be your best bet.
Now that you have an idea of what to keep in mind, read on for the best storage containers for refrigerators.
Shop The Best Storage Containers For Refrigerators
In a hurry? Here are the best storage containers for refrigerators: