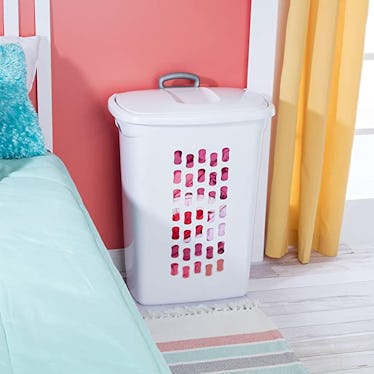 These Laundry Baskets Make Laundry Day *So* Much Easier — & One Costs Just $7
We only recommend products we love and that we think you will, too. We may receive a portion of sales from products purchased from this article, which was written by our Commerce team.
Amazon
Laundry day may be one of the more unexciting parts of life, but the right tools — like a sturdy laundry basket — can make it feel like less of a chore. The best laundry baskets are durable enough to withstand infinite loads of laundry and made with ventilated designs, waterproof linings, or breathable materials that prevent dirty clothes from smelling even more. And with features like ergonomic handles, wheels, or hip-hugging sides, these laundry baskets are made for portability, regardless of how many days (or weeks) worth of laundry they're packed with.
Although "basket" and "hamper" are often used interchangeably, they're technically two different things — and you'll find both styles here. A hamper is generally stationary, while a basket is built to be portable, whether you're carrying it from room to room or to the laundromat. That's why most laundry baskets have some type of mobility feature, like side handles, rolling casters, or shoulder straps. You can even find hamper-slash-basket hybrids with removable laundry bags inside. Or, if you have to deal with stairs on laundry day, you might opt for one that comes with a convenient, stair-climbing dolly.
Most laundry baskets are made of either plastic or fabric. Plastic options will be ventilated and more structured for easy carrying. Fabric options, ideally ones with a waterproof lining to wick away sweaty clothes, will make it easier to squeeze in more clothes, and they have the added bonus of being machine washable. Both options will be lightweight.
From there, consider the size of your laundry basket, and any extra design features that work for your needs. If you're limited on space, choose a door-hanging hamper, a collapsible model you can stow away, or a slim basket that can slip into a narrow spot, like under your bed or couch. If space isn't an issue, you can opt for something larger, like a sectioned basket so you can sort your laundry ahead of time. Or, if you plan on keeping it out in the open, go with a stylish design, like a woven hamper or a rope basket.
With all of that in mind, scroll on to shop 15 of the best laundry baskets and hampers you can get on Amazon, starting at just $7.