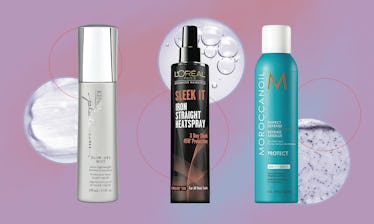 The 7 Best Heat Protectants For Fine Hair
We only recommend products we love and that we think you will, too. We may receive a portion of sales from products purchased from this article, which was written by our Commerce team.
Elite Daily / Amazon
Applying heat to your hair can leave it dry and brittle, even more so if you have fine hair. The best heat protectants for fine hair make heat styling safer for your delicate strands without weighing them down. Top-rated options should be formulated for the specific purpose of creating a barrier that protects your hair from damaging heat, and should strengthen and nourish your finer strands without weighing them down. A lightweight formula is essential for fine hair to avoid flattening it or giving it an oily texture, which typically means opting for a spray-on heat protectant that can distribute the product in a finer mist than a serum or cream. Also look for lightweight ingredients like water or aloe to be sure they won't weigh you down.
What To Look For When Shopping For The Best Heat Protectants For Fine Hair
Since fine hair needs extra protection, you'll also want to make sure you pick a heat protectant that includes the necessary ingredients to keep it strong and hydrated. Heat tools can strip your hair of its natural oils and proteins, so a product with nutrient-rich oils like argan, jojoba, avocado, olive, and coconut, or extracts like aloe leaf, beet, and sea kelp, can help nourish and seal moisture into your dry strands. Other ingredients like proteins, glycerin, silicones, polymers, and castor oil can strengthen your hair and shield it from heat so keep an eye out for a formula that contains ingredients like these to ensure you have an effective formula.
In addition to moisturizing and protecting, consider whether you want a spray that has any additional benefits, like detangling, cutting down on your blow-drying time, or even just smelling really nice. Also think about whether you're looking to protect wet or dry hair from heat tools, since some sprays are specifically designed to be used only on wet or only dry strands.
Shop The Best Heat Protectants For Fine Hair
In a hurry? Here are the best heat protectants for fine hair:
From blow drying to flat ironing, these highly rated heat protectant sprays on Amazon will protect your fine hair and give you the look you want.
1. A Fan-Favorite Heat Protectant Spray
Another popular heat protectant is the CHI 44 Iron Guard, which can be used on wet or dry hair. It's a lightweight, sulfate- and paraben-free spray with panthenol for shine and softness, jojoba and olive oils for moisture, and keratin and silk proteins for thermal protection (up to 450 degrees Fahrenheit). Reviewers love that it doesn't leave hair feeling greasy or weighed down, and one fan even raved, "I have super fine hair that tends to get thin easily if I damage it too much with heat. So I've been using this for forever. Though, I did stop using it for a couple of years and there was a noticeable difference in the health of my hair!!" CHI is a brand synonymous with high-quality heat styling tools and products, so this heat protectant is a reliable choice for fine strands.
One shopper wrote: "This is very popular for a reason! I love this product. I use it daily! I use a lot of heat for my hair and this helps keep my hair from frying or drying out. It mists very easily and distributes through hair nice. It has a nice smell and actually adds some texture to my hair which is great since I have very fine hair."
Also available on: Walmart, $10, and Ulta Beauty, $17
2. A Budget Heat Protectant Spray That's Super Popular
With more than 55,000 reviews and an overall rating of 4.5 stars, it's easy to see why this heat protectant is so popular. The lightweight spray uses silicones to create a barrier around your strands for thermal protection (up to 450 degrees Fahrenheit) and L'Oréal promises that it will keep hair sleek for up to three days — though according to one reviewer, "My hair was sleek straight for a whole week." Nourishing ingredients like camelina sativa seed oil do wonders for your strands. You can apply to damp or dry hair, but some reviewers have advised caution with the nozzle — the spray coats your strands evenly, but can make your floors slippery if spilled. However, since this heat protectant spray comes in at under $5, it's a small price to pay.
One shopper wrote: "This product is great for the price! I have very fine hair that I blow out every morning. This leaves no residue. Just soft silky hair."
Also available on: Walmart, $4, and Rite Aid, $6
3. A Heat Protectant Spray That Also Detangles
If you'd like your fine hair to look and feel healthier after applying heat, consider choosing a heat protectant that also promises to condition and detangle (a claim backed by reviewers). Fans saw results from their first use and can report that "it added shine and bounce to my fine knotty hair." This lightweight spray uses marine extracts for UV protection, and beet-derived extracts, glycerin, and castor oil for heat protection (up to 400 degrees Fahrenheit), while remaining sulfate-, paraben-, and silicone-free. Living Proof is also known for the Healthy Hair Molecule that's used in this product, a proprietary technology that's engineered to reduce the surface energy on your hair and decrease frizz and oil. Reviewers have called it a "go-to hair product," "life changing," and a "miracle." Note that this product is intended for use on damp hair.
One shopper wrote: "LOVE this product! It works beautifully..exactly as advertised. My hair is long and fine and tangles *incredibly* easily. Comb-outs after a Shampoo were a nightmare. This spray solves the problem. Very happy!"
Also available on: Walmart, $25, Sephora, $29, and Ulta Beauty, $29
4. A Heat Protectant Spray That Can Decrease Blow-Drying Time
This highly rated blow-dry spray is a lightweight mist that the brand has specifically designed for fine hair. The formula should be applied to damp hair, and is made with jojoba oil for nourishment and strength, plus keratin and polymers for thermal protection (up to 428 degrees Fahrenheit). It claims to cut blow drying time in half, while softening and de-frizzing in the process. Fans also love the tropical scent, non-sticky feel, and the fact that a little product goes a long way.
One shopper wrote: "I have a cabinet full of cheaper-blow dry sprays and creams that I'm ready to toss because this spray is all I need. Works great on my fine hair and my daughters curly hair. Definitely speeds up drying time and hair looks so healthy when using. Highly recommended!!"
Also available on: Walmart, $24
5. A Cult-Favorite Heat Protectant Spray Available In Travel Size
Fans of Moroccanoil products and the brand's Perfect Defense Spray rave about the signature scent that combines notes of tropical flowers, vanilla, amber, and wood. That rich, nutty smell comes in part from argan oil, which is a natural thermal protectant and moisturizing ingredient. The spray also includes a mix of silicones, castor oil, glycerin, and polymers to protect your hair up to 450 degrees Fahrenheit. And many reviewers with self-reported fine hair love this product, which has an overall rating of 4.6 stars after 4,400-plus reviews. It's also free of sulfates, parabens, and mineral oil and can be applied to dry or damp hair. And if you want to take it on the road, there's a 2-ounce travel size.
One shopper wrote: "This heat protects without weighing down my fine hair, and the smell is wonderful."
Also available on: Sephora, $30, and Moroccanoil, $30
6. An Affordable Heat Protectant Spray Made With Avocado & Olive Oil
There are a lot of heavy-duty moisturizing ingredients in this heat protectant spray, including vitamin E, aloe vera, shea butter, panthenol, avocado oil, and olive oil. These moisturizers combine to nourish, hydrate, and add shine to your fine hair without feeling heavy. It contains glycerin for thermal protection and should be applied to damp hair. The packaging is recyclable and the vegan-friendly spray is sulfate-, paraben-, and cruelty-free. It's no wonder that reviewers call it "the perfect moisturizer for fine and dry hair."
One shopper wrote: "My main priority is always making sure my hair is moisturized and this product is perfect lightweight leave-in when you don't want your hair to be weighed down by creams/butters etc. I also love that it doubles as a heat protector which is perfect since i mainly use it if I'm gonna blow dry/straighten my hair. Its affordable, effective and the smell is mild in my opinion which I like."
7. A Heat Protectant Spray That Can Be Used On Natural Hair & Extensions
This heat protectant spray is suitable for use on natural hair and extensions made with human hair, and since it's an ultra-lightweight spray formulation, it's a great choice for fine hair. But don't just take my word for it — Amazon reviewers adore this product, giving it a solid 4.4-star rating overall, after a whopping 43,800-plus reviews on the site.
It's formulated with nourishing argan oil and vitamins to leave your hair feeling smooth and moisturized each time you use it, and it's designed to protect your strands from exposure to temperatures up to 450 degrees Fahrenheit. It can even help to speed up your blow dry time, though it can also be utilized on dry hair when desired. This pick is sulfate-, phosphate-, and paraben-free.
One shopper wrote: "Love this stuff! I am all the way through my first bottle, about to order my second. I have exceptionally fine hair and have been searching for something that doesn't weigh my hair down. I have had issues in the past with heat protectant making my hair very crispy and straw-like and making it so heavy and greasy feeling. But this stuff does nothing except make my hair super soft and shiny, and also MAJORLY helps with my fly-aways. I spray it all over my wet hair before blow drying, then spray it on section by section as I'm curling or straightening. Leaves my hair smooth and light."
This article was originally published on