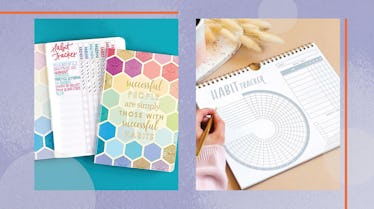 The 9 Best Habit Tracker Journals
They make staying motivated so much easier — and more fun!
Bustle/Amazon
We may receive a portion of sales if you purchase a product through a link in this article.
When you're looking to set goals and create new habits, it can be helpful to have a journal to track your progress along the way. Fortunately, the best habit tracker journals combine helpful layouts and tools — such as checklists, prompts, and calendars — with additional pages that match your journaling style. They also come in a bunch of styles and colors to help keep you motivated.
What To Look For In A Habit Tracker Journal
Types Of Tracking
First, consider how in-depth you want to go with habit tracking. More complex habit trackers can feature everything from planning calendars to checklists and questionnaires, which can be great for organizing your day and diving deep into your thoughts and routines. Other journals focus on a specific goal or set of habits and use a smaller set of guided prompts to help direct you along the way. Some simpler models require just five minutes a day or placing color-coded stickers onto a single page for tracking.
Additionally, some trackers are meant to be used just once a day (usually in the morning or at night), while others are designed to be used throughout the day or require multiple recordings. Ultimately, your choice depends on how regimented you'd like your journaling to be.
Other Things To Consider
Habit tracker journals also vary in length. Some extremely focused journals will provide three to six months of tracking, while others (and especially those with calendars) can provide up to a year of habit-tracking help. They're available in a wide variety of paperback and hardcover options, and some are even designed to be hung on the wall like a calendar. However, no matter the style, the best journal for you will be what you enjoy picking up every day.
With all this in mind, scroll on for the best habit tracker journals on Amazon and get your new habits off to a great start.