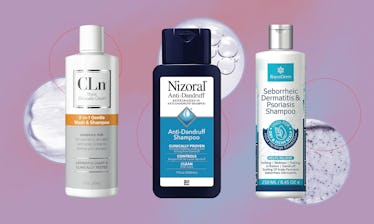 The 6 Best Eczema Shampoos, According To Dermatologists
Scalp relief in a bottle.
We may receive a portion of sales if you purchase a product through a link in this article.
When you have eczema, affected skin can range from itchy and annoying to inflamed and downright aggravating. And when eczema shows up on your scalp — also known as seborrheic dermatitis — traditional shampoos may be irritating or ineffective at preventing symptoms like flaking or dandruff. The best eczema shampoos are either formulated with gentle ingredients that will help prevent symptom flares, or they contain medicated ingredients like ketoconazole to treat symptoms and prevent them from appearing in the first place. I talked to two board-certified dermatologists to understand what to look for in an eczema shampoo, so you can find relief the next time you suds up.
The Experts
Elaine Kung, M.D., is a board-certified dermatologist and a graduate of Yale School of Medicine. She is the founder of Future Bright Dermatology in New York City and is also an Assistant Clinical Professor at New York Presbyterian-Weill Cornell Medical Center.
Robin Evans, M.D., is a board-certified dermatologist and fellow of the American Academy of Dermatology in private practice at Southern Connecticut Dermatology in Stamford, Connecticut. She attended the Albert Einstein College of Medicine in New York City, where she also works as a clinical instructor.
What To Consider When Shopping For The Best Shampoo For Scalp Eczema
Medicated Versus Unmedicated Formulations
"In general, medicated products are going to be the most useful," advises board-certified dermatologist Robin Evans, M.D., who suggests trying a medicated formula for at least a few days to ease symptoms. Since fungus is one of the causes of eczema, she recommends looking for a shampoo with antifungal agents such as selenium sulfide, ketoconazole, and zinc pyrithione, which can help prevent scaling and flaky patches from appearing. Other ingredients, including exfoliants like salicylic acid, can help remove buildup to keep hair free of dead skin debris and flaking. Dr. Evans notes that the ingredients in some medicated shampoos for seborrheic dermatitis have the potential to cause irritation, and if this happens, you can "use a product with tea tree oil or other very gentle ingredients just for a few days until the irritation has improved." It's also worth mentioning that some medicated formulas have a tendency to fade dyed hair — so keep that in mind as you make your decision.
On the other hand, Elaine Kung, M.D., says that some people may find exfoliating ingredients like salicylic acid to be irritating. She recommends gentle, non-medicated shampoos, including those free of fragrances, sulfates, and essential oils. "These eczema shampoos are not 'sexy' shampoos with alluring scents but they get the job done in cleaning our scalps," she adds. In the end, you may have to do some experimentation to see what works best for you — and decide whether your top priority is to treat eczema with medicated ingredients or simply keep irritation at bay with the help of gentle formulations.
Ingredients To Avoid
Regardless of whether you choose a medicated or non-medicated shampoo, watch out for certain ingredients that can cause irritation. "If there are fissures, excoriations, and a lot of other signs of picking, scratching and crusting, some of the products may cause some irritation, especially if they are alcohol-based solutions or gels," notes Dr. Evans. As mentioned previously, you may want to avoid fragrances and sulfates to limit irritation, and — if you're particularly sensitive — might even consider staying away from essential oils or exfoliating ingredients like salicylic acid (although the jury's out on that last one). Other ingredients that some people find irritating include dyes and parabens, so consider steering clear of those as well.
Wash Frequency
"Removing the scalp of irritants, such as hair oils, sweat, dust, and pollutants is necessary to prevent scalp eczema," notes Dr. Kung, who recommends patients shampoo at least every other day. "I try to remind patients not to use shampooing as a time for scalp scratching. Shampoo can be placed gently without aggressive scratching to be effective in rinsing away irritants."
Dr. Evans says that it takes about 48 hours for the scale to re-accumulate on the scalp, and some people may need to shampoo more frequently depending on their case. "Some patients may need to shampoo every day, at least at the beginning, when the problem may be more severe," says Dr. Evans.
Whether you have occasional or chronic scalp eczema, I recommend consulting with your own dermatologist before initiating any kind of new skin care regimen (yes, that includes your hair). Whether you choose a medicated or non-medicated option, the best eczema shampoos are highly rated by reviewers and meet the criteria of our experts.
Shop The Best Eczema Shampoos
In a hurry? These are the best eczema shampoos:
1. A Gentle Shampoo That's Available In Medicated & Non-Medicated Options
Expert Pick
Highlights:
Available in medicated and non-medicated options
Free of most common irritants
Awarded the National Eczema Association Seal of Acceptance
Vanicream's mild, fragrance-free shampoo for dermatitis has been awarded the Seal of Acceptance by the National Eczema Association, and it has the endorsement of dermatologists including Dr. Kung, who says it's "a great shampoo for people with sensitive scalps because it has no fragrance, sulfates, parabens, or other additives that are commonly blended in shampoos." The non-medicated formulation provides gentle cleansing of the hair and scalp to remove flaking, scaling, and oiliness. In addition, it's free of potentially harsh ingredients like sulfates, silicone, dyes, lanolin, parabens, and formaldehyde releasers.
This pick is also available in a medicated formula that includes zinc pyrithione. This option will treat seborrheic dermatitis and dandruff, as opposed to simply preventing irritation. Just keep in mind that some reviewers with dyed hair reported the medicated version had a tendency to fade their color.
A reviewer wrote: "Well, if you have eczema, this is a great shampoo! My Dermatologist recommended this brand. Has no smell. Eczema clearing up after using this and the conditioner."
Medicated? Medicated and non-medicated formulas available | Dyes? No | Parabens? No | Fragrances? No | Sulfates? No
2. An Antifungal Shampoo That's Color-Safe
Expert Pick
Highlights:
Features 1% ketoconazole to help treat scaling, itching, and flaking
Medicated formula that's less likely to fade color-treated hair
Offers a more traditional shampooing experience with lathering & fragrance
This antifungal shampoo from Nizoral is one of Dr. Evans' picks for those with eczema, and it also has a 4.6-star overall rating after 75,000 customer reviews on Amazon. The active ingredient is 1% ketoconazole, which helps to control the scaling, flaking, and itching associated with eczema. Keep in mind, however, that this pick does include dyes, fragrances, and sulfates, which means you'll get a more traditional shampooing experience (replete with a lathering effect), but it may irritate some with particularly sensitive scalps. Due to the specific formulation, this pick should only be used twice a week in conjunction with other gentle shampoos.
Some medicated shampoos are more likely to cause dyed hair to fade, but Nizoral's gentle formula is designed not to interfere with color vibrancy — while still managing your eczema symptoms and helping to prevent hair loss due to inflammation.
A reviewer wrote: "This product is absolutely amazing. I was diagnosed, through biopsy, with nummular eczema and I have struggled fighting the intense flare ups for YEARS. [...] Literally within the first two washes the change was huge!! A month later and I have been eczema free for a month straight!"
Medicated? Yes | Dyes? Yes | Parabens? No | Fragrances? Yes | Sulfates? Yes
3. This Moisturizing Shampoo That Can Also Be Used To Cleanse The Body
Expert Pick
Highlights:
Moisturizes dry hair
Can also be used to cleanse the body
Awarded the National Eczema Association's Seal of Acceptance
A common complaint about eczema shampoo is that it has a drying effect on hair, but this moisturizing shampoo won't dry out strands. To boot, it can also be used to cleanse the body and prep skin for shaving. It's one of Dr. Kung's recommendations, who notes that it has received the National Eczema Association's Seal of Acceptance. The unscented, color-safe formula contains glycerin and conditioners to balance moisture, but it's free of parabens, fragrances, and dyes. Note, however, that it's not sulfate-free, so it's not a great pick if you're sensitive to that ingredient — but it'll produce a lather that some people prefer.
A reviewer wrote: "For ultra sensitive skin issues and scalp. Very moisturizing, good value for the money. Have a ton of allergies? Kids with skin and scalp issues? [...] This will provide relief gently. Leaves hair really soft as well. Excellent face wash as well."
Medicated? No | Dyes? No | Parabens? No | Fragrances? No | Sulfates? Yes
4. A Plant-Derived Shampoo That Provides A Cooling Sensation
Highlights:
Features plant-derived formula
Soothes the scalp and provides a cooling sensation
Formulated with herbal ingredients and plant extracts, RoyceDerm's natural shampoo for dermatitis is designed specifically to help ease eczema symptoms, including itching, flaking, and redness. Menthol provides a cooling sensation that helps soothe any feelings of burning. The gentle formula can be used every day for symptom relief and to prevent the buildup of scale, and it's recommended that you let the formula absorb into the scalp for three to five minutes before rinsing for best results.
In addition to being plant-based, the color-safe formula is also dye-, paraben-, and sulfate-free. And, while no artificial fragrances are added, note that some of the plant-derived extracts do have an herbaceous scent.
A reviewer wrote: "I have sensitive skin and after several years my eczema flared up and caused my scalp to become dry, itchy and weeping. I used the shampoo and cream at night before bed and within a week my scalp was back to normal. I am now using the shampoo twice a week and I am back to a clean soft scalp!!"
Medicated? No | Dyes? No | Parabens? No | Fragrances? None added, but the herbal ingredients have a natural scent | Sulfates? No
5. This Tea Tree Oil Shampoo That's Especially Great For Oily Hair
Highlights:
Especially great for oily hair
Tea tree essential oil may help ease eczema symptoms
While some people with eczema may experience irritation from essential oils, Dr. Evans says tea tree oil can still be a good option for some people. This non-medicated shampoo from Paul Mitchell's Tea Tree line has a 4.7-star overall rating after more than 47,000 reviews, and it's formulated with tea tree, peppermint, and lavender oils, along with a variety of plant extracts. Tea tree oil may have antibacterial and antifungal properties that help rid the scalp of impurities, including oil, scale, and dead skin. Peppermint oil is used in conjunction with lavender for a formula that has an invigorating effect on hair while leaving it smelling fresh. This pick helps absorb excess oil, but moisturizing ingredients like jojoba and aloe are also included to keep strands from drying out.
The non-medicated shampoo is vegan, paraben-free, and safe for use on color-treated hair, but it does contain dyes, sulfates, and fragrances.
A reviewer wrote: "This is the only shampoo that doesn't irritate my eczema. It smells fresh, the tingle it gives when it touches the scalp is calming yet revitalizing at the same time. Rinses clean and leaves my hair so clean, shiny and soft!"
Medicated? No | Dyes? Yes | Parabens? No | Fragrances? Yes | Sulfates? Yes
6. A Salicylic Acid Shampoo That Exfoliates Scalp Buildup
Highlights:
Features 3% salicylic acid to exfoliate scalp and removes buildup
Free of most common irritants
Dr. Evans recommends formulas that include salicylic acid to help remove buildup of dead skin and scaling — and Neutrogena's seborrheic dermatitis shampoo is a great option for the job. Formulated with 3% salicylic acid, it also works to clear dandruff and flakes and relieve itching. The brand recommends using the shampoo at least twice a week, and letting the liquid sit on your scalp for several minutes before rinsing.
This medicated formula is free of dyes, sulfates, parabens, and fragrances, so it's super gentle on sensitive scalps. Just keep in mind that while some users mentioned it doesn't fade their dyed hair, others reported their color did fade a bit faster while using it. One last thing: Dr. Kung mentions that some people find exfoliating ingredients like salicylic acid to be irritating, so proceed with caution.
Medicated? Yes | Dyes? No | Parabens? No | Fragrances? No | Sulfates? No
Experts:
Dr. Elaine Kung, board-certified dermatologist and founder of Bright Dermatology. https://www.futurebrightdermatology.com/about
Dr. Robin Evans, board-certified dermatologist and practitioner at Southern Connecticut Dermatology. https://www.socodermatology.com/our-team
Studies referenced:
Carson, C.F., Hammer, K.A., Riley, T.V., (2006, January). Melaleuca alternifolia (Tea Tree) Oil: a Review of Antimicrobial and Other Medicinal Properties. Retrieved from https://www.ncbi.nlm.nih.gov/pmc/articles/PMC1360273/