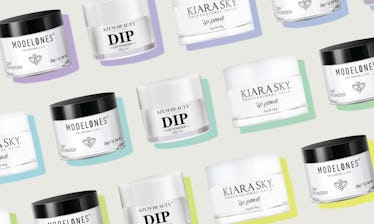 The 5 Best Clear Dip Powders, According To An Expert
Get a long-lasting finish for clear manis or to protect colors and nail art.
Elite Daily/Amazon
We may receive a portion of sales if you purchase a product through a link in this article.
Whether you want a clear, long-lasting manicure or want to protect colorful nails and nail art, the best clear dip powders are all "very fine and lump-free," according to Syreeta Aaron, a nail technician and an educator for LeChat Nails. Depending on what kind of manicure you'd like, you can opt for a single pot of clear powder or a complete dip system, which "will come with everything needed to create a full manicure," Aaron tells Elite Daily.
The Expert
Syreeta Aaron is an Alabama-based professional nail technician and educator for LeChat Nails.
What To Consider When Choosing A Clear Dip Powder
With any dip manicure, the quality of the entire dip system — including the base, powder, and activator — is key to ensuring the durability and longevity of your manicure. When Aaron shops, "the first thing that I look for in a quality dip system is how [easy] it is to brush on the base." Adding: "You want a base that brushes onto the nail very smoothly so that when you dip the powder you don't have lumps and the powder is going on evenly." The powder should also harden quickly after the activator is applied.
Additionally, while most clear dip powders are available for purchase by themselves, you can also purchase clear dip powders in a kit with a bond, activator, and top coat. Some kits include a variety of colors to choose from, as well as helpful manicure tools such as files, sponges, and sticks. They're also available in matte and glossy finishes and come in various price points to suit your budget.
For a long-lasting mani, scroll on for the best clear dip powders backed by glowing Amazon reviews from at-home manicurists. And expert advice on how to DIY dip powder nails like a pro at the end.
1. The Fan-Favorite Clear Dip Powder
Featuring a patented clump-free technology, this super-fine clear dip powder will help you achieve a stunning dip manicure for less than $10. It boasts over 11,000 five-star reviews, has been fortified with calcium for stronger nails. This listing is just the powder, so if this is your first time trying a dip manicure or you're running low on supplies, the brand's dip powder accessory kit will provide everything else you need.
One Reviewer Wrote: "I was super impressed with this! I have been using dip powder at home for the last few months, and have used a few different brands, [...] This container is almost twice the size as most dip powders are and for the same price!! I was pleasantly surprised by how quality the powder seems! Very, very fine power! Easy to use. And the finish product is exactly what I hoped for! A natural looking nail! I chose to do clear to harden my natural nails, so I could use my regular nail polis, instead of limiting myself to only dip powder colors. I highly recommend this!"
2. This Cruelty-Free Dip Reviewers Say Is Worth The Money
If you're looking for a cruelty-free option, this Kiara Sky dip powder is the crème de la crème of clear dip powders. Some reviewers say this is the finest dip powder they've ever used and that it melts into the base coat to create a durable and silky finish. The powder is infused with calcium and vitamins to help strengthen nails, and in addition to clear, the listing also offers lots of color options as well. Since this powder isn't part of a kit, you may need the Kiara Sky essentials kit, which includes the base coat, top coat, bond liquid (activator), and top coat.
One Reviewer Wrote: "I tried 3 other brands claiming they'd be 'clear'. This one actually was clear and I know why. The powder itself is [...] so fine and matches the syrupy base to literally melt. Others had powder that wasn't this fine so it couldn't melt/blend and stayed grainy.[...] If you want premium results? It's worth the money."
3. This $6 Vegan Dip Powder That's Highly Rated
This next clear dip powder has a crystal-clear, high-gloss finish that's perfect for French manicures and showcasing nail art — and it's entirely vegan. There are 23 additional colors to choose from, and the brand states that with proper application, manicures can last three to six weeks. Like the options above, they also offer a convenient kit with the base coat, top coat, activator, and other manicure supplies.
One Reviewer Wrote: "I don't buy any other dip powders after stumbling upon this gem. U CANNOT beat that price! The main reason I love this stuff is cuz powder is nice and fine which cuts down on buffing time. I've bought many other dip powders off Amazon, this is the best at this price point."
4. This Clear Powder In An Extra-Large Jar
For those who want the biggest bang for their buck, this clear dip powder is the largest size on the list and still comes in at under $10. Reviewers love how easy it is to use, but some report that it can develop a milky hue when applying multiple coats — a non-issue if you plan on using nail polish or like the glazed donut look. Plus, the brand offers a kit complete with the base coat, top coat, activator, brush saver, nail file, wooden manicure tool, and two brushes.
One Reviewer Wrote: "I absolutely love this brand! It really is clear! Can be used alone or on top of colors to make it a little thicker. Perfect to use when doing ombré!"
5. A Dip Powder Kit With A Bunch Of Colors To Play With
If you love the look of clear dip powder but want the flexibility to mix it up with some colors now and then, consider this dip powder kit which includes 20 colors (including clear). The nine toxin-free formula has users raving, and the kit comes with everything you need, including the base coat, top coat, activator, brush saver, two base/top coat brushes, a fluff brush, nail file, and a cuticle pusher. While the set shown is beige- and pink-focused, there are other sets at the listing with neutrals, blues, rainbow brights, and more.
One Reviewer Wrote: "This kit is by far my favorite- night and day difference! It goes on smoothly, the colors are AMAZING, the powders are so fine and smooth, and they dry rock hard. I don't think I could crack one of these if I tried."
How To Dip Nails At Home
Prior to applying the dip powder, it's important to prep your nails correctly — eliminating dirt, old polish, and natural oils will make your dip manicure "last much longer and prevent lifting of any kind," Aaron tells Elite Daily.
To help keep the finished dip manicure from lifting, she suggests you "stay away from applying the base (coat) onto the skin or [...] cuticle area."
Additionally, Aaron notes that the longer your nails are, the more times you'll need to repeat the base coat and dipping process. Doing so will increase the durability of your mani.
Lastly, Aaron suggests applying a cuticle oil once you've finished your dip powder manicure to keep them healthy and hydrated.
Expert:
Syreeta Aaron, LeChat Nails educator and nail salon owner