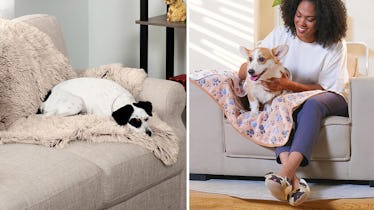 The 6 Best Blankets For Dogs That Shed
From fur-resistant picks to fur-hiding options.
Amazon
We may receive a portion of sales if you purchase a product through a link in this article.
If you have a pup that sheds, everything you own seems to be coated in fur — especially their blanket. The best blankets for dogs that shed are made from a material that traps or disguises fur, or features a tight weave that's fur-resistant. Top picks should be durable enough to last through any doggie roughhousing and machine washable. Lastly, the blanket needs to be sized for your pet and wherever you plan on using it like in their crate or on your bed.
What To Look For When Shopping For The Best Blankets For Dogs That Shed
Material
Dog blankets made from synthetic materials such as microfiber can actually attract pet hair to prevent it from ending up all over your floor and furniture. These materials are a breeze to wash (which you'll likely have to do often) and are usually quite durable. Some even have waterproof capabilities to prevent accidents, drool, and other liquids from damaging the surface below. Others might have cooling properties to keep your pet comfortable.
Texture & Color
The texture, color, and pattern of the blanket should also be considered — and not just for aesthetic purposes. If preventing hair from sticking to the blanket as much as possible is your ultimate goal, then look for a blanket with a tight weave and slick surface that won't hold onto the fur. Blankets with busy patterns or thick textures (like faux fur) will help disguise shed fur, too, as will choosing a blanket in a color that matches your dog's fur.
Shop The Best Blankets For Dogs That Shed
In a hurry? Here are the top picks for the best blankets for dogs that shed:
Read on for the six best blankets for dogs that shed; they come in a variety of shapes and sizes to work for the different areas of your home (though you'll probably want to grab a pet hair remover brush for easier cleanup on other surfaces, too).
1. A Fur-Hiding Dog Blanket With 24,000+ 5-Star Reviews
Pet parents confirm their pups love this faux fur blanket — it has a 4.5-star rating overall after more than 34,000 reviews. It's incredibly comforting; the faux fur is fluffy for cuddling up, while the velvet reverse is smooth and soft. The texture of the blanket (combined with the polyester material) trap and hide fur until it's time to wash it. And the blanket is completely waterproof to protect your surfaces against accidents, dirt, and more.
Other blanket styles are available from Furhaven as well, including quilted picks or even options with a thermal lining for additional warmth.
One Reviewer Wrote: "This is a good throw blanket for my sofa. My dog sheds light hair so the Color is perfect [...] for the price and the quality of this product I would purchase it again if something were to happen to his throw blanket."
Material: Polyester | Sizes: Small (30 x 20 inches) — X-Large (60 x 50 inches) | Waterproof: Yes | Machine Washable: Yes | Colors: 31 (includes various styles)
2. Writer's Pick: A Soft, Durable Dog Blanket That Washes Well
One of my main criteria when choosing a dog blanket is that it has to be durable enough to withstand repeated washing — because dogs can be really messy. Luckily, this pet blanket fits the bill. It's made from an easy-to-clean polyester microfiber that doesn't pill, and the premium stitching helps to keep it from falling apart. The material is soft to the touch, and it's reversible with a darker shade on one side and a lighter color on the reverse. A quilted option is also available.
Writer's Review: "My maltese-yorkie mix absolutely loves this dog blanket! We laid it in her dog bed, and she can spend hours cuddled up in it. The blanket is easy to clean — I've put it in the washing machine and dryer more times than I can count, and it still feels like it's in brand-new condition."
Material: Polyester microfiber | Sizes: Small (31 x 27 inches) — X-Large (60 x 48 inches) | Waterproof: No | Machine Washable: Yes | Colors: 3
3. A 3-Pack Of Smaller Fleece Dog Blankets For Less Than $15
This set of three dog blankets costs just $11 and ensures you'll always have a clean one on hand. The double-sided blankets have a soft, fleecy texture, and a cute paw print pattern that also helps mask shed fur. There are darker options (like brown or gray that'll hide dark-colored dog hair), and a white pick for light-haired pooches.
While three sizes of blankets are available, they're all on the smaller side, making them particularly great for smaller breeds, putting in (or over) a crate or dog bed, using in a car, and more.
One Reviewer Wrote: "I use these blankets on my sofa's on the places my two cats love to sleep. They work great! They help save my sofa's from getting all their hair all over them. They match, blend in with the color of my sofa's so they don't stand out like a sore thumb."
Material: Polyester fleece | Sizes: Small (23 x 16 inches) — Large (41 x 31 inches) | Waterproof: No | Machine Washable: Yes | Colors: 5
4. A Waterproof Dog Blanket To Protect Your Bed (Or Couch)
Protect your bed from fur, accidents, drool, and other doggy messes with the help of this waterproof dog blanket. The microfiber exterior features a waterproof coating to ensure nothing seeps through. While this isn't fuzzy or furry, the thin blanket is still plenty comfortable thanks to a microfiber filling. It's reversible (with a different shade or color on each side, depending on the option you go with), allowing you to switch up the look in just seconds.
Choose from a wide range of sizes; the biggest one can easily cover an entire king-size bed. Some Amazon reviewers use this blanket on couches, chairs, and even in a car.
One Reviewer Wrote: "I put this on a daybed that my pup loves to sleep on. I had only sheets on it before and was constantly cleaning them due to her shedding fur and getting dirt on them. This cover is amazing! It's a beautiful blue/teal and it's soft and so much easier to clean than stripping off fitted sheets. Highly recommend!"
Material: Polyester microfiber | Sizes: 30 x 70 inches — 82 x 120 inches | Waterproof: Yes | Machine Washable: Yes | Colors: 10
5. A Custom Pet Blanket Made From A Slick Micromink Material
Add your pet's name to this customizable dog blanket that's just $20. There are four fonts to select from, and adorable design elements like hearts, paws, and more. There are three different sizes and two colors to select from (either gray or beige). Looks aside, this is also a superior choice for dogs that shed. The material is a slick micromink — give it a quick shake and any fur will come right off.
One Reviewer Wrote: "Nice blanket! Good quality super soft and washes well! Our little schnauzer will use it at sleepy time!"
Material: Micromink polyester | Sizes: Small (20 x 30 inches) — Extra Large (40 x 60 inches) | Waterproof: No | Machine Washable: Yes | Colors: 2
6. A Cooling Blanket With A Fur-Resistant Weave
This quilted dog blanket is designed to absorb and release your pet's body heat, allowing them to stay cool on warm days. The lightweight blankie is made from multiple layers of nylon and polyester, and it has a silky finish that'll allow hair to slide right off.
One Reviewer Wrote: "It's cooling for the dog, it's soft and he loves to lay on it. It is lightweight and comfortable. The dog hairs don't stick to the blanket and it is easy to clean. He loves to sleep on it, excellent for all dogs."
Material: Nylon, polyester | Sizes: Medium (29 x 40 inches) — Queen (90 x 90 inches) | Waterproof: No | Machine Washable: Yes | Colors: 6
Also Nice: A Pet Bed With A Washable Cover
In addition to a trusty blanket, consider scooping up this foam dog bed for your shedding pooch as well. The interior features an egg-crate foam that'll evenly distribute your pet's weight for optimal comfort, while the dual-sided exterior cover — which features cozy sherpa on one side, and a slick fabric that hair will slide right off of on the reverse — is removable for quick and easy washing. Amazon reviewers have given this dog bed a 4.6-star rating overall after 39,000-plus reviews, with one fan calling it, "the Best Dog bed we have ever bought!!"
Choose from various options based on your pet's size — there are a few colors to choose from as well.
One Reviewer Wrote: "Needed a washable bed for our older dog who sheds a ton. She lays on it all the time and it's holding up extremely well. It doesn't hold odors like some of the other beds we've had do either which is really nice. She prefers the 'fuzzy' side but it's nice to have the option to flip it to the other side so it's cooler on her."