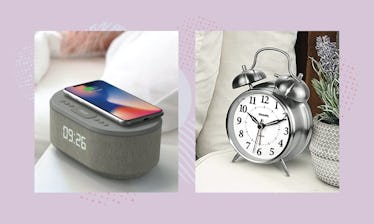 The 8 Best Alarm Clocks For College Students
We only recommend products we love and that we think you will, too. We may receive a portion of sales from products purchased from this article, which was written by our Commerce team.
Elite Daily/Amazon
To help you start the day on the right foot (and show up to class on time), the best alarm clocks for college students will wake you up in a way that's most effective for you, whether that's with a loud buzz or a gentle sunrise simulation. These clocks come in a variety of styles, including a mix of analog and digital options. Many also have extra features, like a charging dock or a Bluetooth speaker, and some are geared towards the heaviest sleepers.
If you're looking for a simple alarm clock, an analog option offers classic style with one alarm setting and a snooze button. Some analog clocks emit the familiar ticking sound while others keep time silently, and most options are battery-powered. On the other hand, while digital clocks don't have the same retro appeal, you'll find a few sleek styles made from wood, for example. Digital clocks also allow you to set more than one alarm, adjust the volume and brightness, and check the time at a glance in the middle of the night thanks to the LED display. They usually need to be plugged in, but many offer the option to use backup batteries in case there's a power outage.
Some digital clocks have additional features that may work for you. For example, a clock that rolls away as the alarm goes off might motivate you to get out of bed. If you're a heavy sleeper with a roommate, you might like a clock that'll shake your bed to wake you up without disturbing anyone else. Other clocks gradually increase the volume of the alarm and feature soothing sounds that gently nudge you awake, while some let you charge your phone with a USB port or wireless charging dock. And for late-night study sessions, you might want an alarm clock with a built-in reading light.
Whether you want a simple clock that does one job or a multitasker, one of the best alarm clocks for college students below will make getting out of bed a little easier.