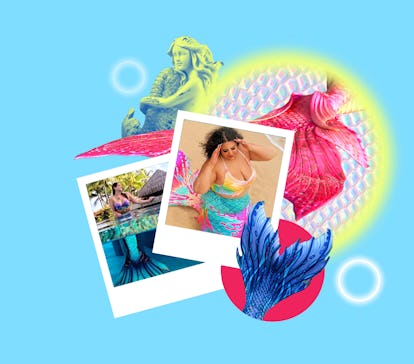 Becoming A Mermaid Is Easier Than You Think
After a week of adventures, it almost felt weirder to swim without my tail than with it.
I have the adorably awkward coordination of a rom-com character. It was a thought that haunted me as I slithered into my purple mermaid tail for the first time. Yes, we were at the Four Seasons in Bora Bora, a location so comically beautiful it feels like living inside of an Instagram filter. And yes, I was about to put my fate in the hands of a professional mermaid trainer, whose enthusiasm for the trade was enough to carry me through my initial misgivings. But transformation takes time. Sure, I had played "mermaids" in the pool with friends as a kid. But when faced with an actual tail, was my quest to become an otherworldly creature of the sea bound to belly flop as I attempted to become an actual, card-carrying mermaid?
Spoiler alert: Trading my feet for fins was a surprisingly quick adjustment. Over two days, we learned everything from underwater backflips to blowing big, bubbly mermaid kisses — taking our newfound skills from a protected lagoon into the open water, where impressive schools of brightly-colored fish and sharks watched us practice. Not only was I able to stay afloat, but after spending so much time in the water with my pod of fellow mermaids-in-training, I found myself thinking, 'Yeah, I could be part of your world.' (And judging from our WhatsApp group, a reunion isn't out of the question.)
Call it the Halle Bailey effect, but mermaids are long overdue for a revival. Modern pop culture is dotted with mermaid moments, including one of the first short films in 1904, a man enchanted by a siren. In 1947 Florida's Weeki Wachee Springs began attracting tourists with their stunt diving performances featuring a legion of mermaids and "princes" in brightly colored tails. The 1980s received a double dose of mermaids in the form of the Tom Hanks film Splash and the original Little Mermaid, a Hans Christian Anderson-inspired Disney juggernaut that would spawn two direct-to-video features. And although "mermaidcore" is a relatively new description, for fashion that looks wet and sparkly, the trend first appeared in a 1933 issue of Vogue.
Sarah Laskow, author of the Very Short, Entirely True History of Mermaids, points out it's not unexpected for mermaids to have a pop culture resurgence. Half-human, half-sea creatures have been knitted into the myths of almost every culture, from the Mami Wata of West Africa to the selkies of the Nordics. Our near-universal attraction to a creature that can bridge the two worlds and find comfort in the unknown is understandable, particularly when you consider the chaos of the last few years.
"Bodies of water can be very mysterious places," she says. "And they have very strange creatures in them. So, the idea that there would be some sort of like an ocean figure that we can communicate with is understandable. The sorts of creatures you find in the ocean spark people's imaginations about what else is possible."
For Brandee Anthony, it was exploring the unknown that pushed her into the mermaid world. As a livestreamer who thrived on challenges like attaching a camera to a drone, the idea of broadcasting underwater appealed to her. Buying her first tail and appearing as a mermaid was just to create the most logical context. Twenty-thousand viewers and a successful broadcast later, and she was hooked, launching her new career only a few days later. Since then, she's become the first mermaid to parasail; has attended influencer events in China, Australia, and Australia; and owns a mermaid photography, training, and merch company that makes six figures per year — a number she reveals lest anyone try to claim that what she does doesn't qualify as a "real job."
"Artistry and sport," she says. "Those are the pillar words to what I do. Over the years, I've dealt with in-person and online commentary and just people downright not taking me seriously for what I do and who I am. A common misconception is when someone wants to be a mermaid, they want to be The Little Mermaid. It calls to people in different ways. I definitely know a lot of party performers. But actually, the majority of us don't do any of that at all. There are just so many different avenues in life and so many different ways of connecting with people."
The live-action version of The Little Mermaid is likely to introduce a new generation to mythical underwater life. But the mermaid community is already bigger than you might realize. A forthcoming episode of NPR's Marketplace explores the mind-boggling number of zeros attached to the business of mermaiding. (Just consider how easy it is to spend thousands of dollars on a custom-designed silicone tail, or $200 on the fabric "discovery" version.) The recently released Netflix documentary MerPeople digs into the lives of the people behind the fins and the wholehearted dedication they give to their craft. However, it isn't just kitsch or cosplay. In 2020, PADI, the diving organization for free and scuba divers, added a new curriculum allowing people to refine both their mermaid and water safety skills. After two days of swimming through its course in Bora Bora, I can confirm that perfecting the perfect mermaid wiggle also doubles as an impressive core workout.
The creative goal of mermaiding is to transform into an otherworldly creature (even just for a quick dip), but it's worth noting that it's a personal experience, the parameters which are defined by each mermaid. Feel like dressing up in something sparkly or just letting the salt water run through your hair? Great. Image policers, racists, and body shamers need not apply.
As Merliah, a Singapore-based mermaid, notes, she's never felt judgment from the mermaid community. Floating and playing in the surf felt so familiar from family vacations that becoming a mermaid and even running a mermaid school for a half-decade didn't feel like a stretch. However, after performing at her first Asian Dive Expo, she ended up going viral on messaging and social media app WeChat, as users made cruel comments about her appearance. But the terrible incident helped her make an important decision about her future both in and out of her tail.
"It was so much hate that I actually wanted to stop," she says. "I actually was thinking, 'No, I can't do this anymore. It's not worth it. But then my dad said to me, 'Why do you care what those people say? They're not the ones with their sinuses flooding, looking pretty in a tank, and in a tail, with their legs constricted.' He was right. I can do this and they can't, so why should I care about what they have to say? And then that also led me to fall in love with myself a little bit more."
Merliah used the experience to rebrand herself as "Asia's 1st Plus Sized Mermaid," and the stunning photos of her tropical-hued tails took on a deeper meaning, demonstrating the power that comes with being yourself. As she sees it, it's not far removed from the pep talks she used to give to students considering one of her classes.
"'I think I'm too fat for this,'" she says mimicking skeptical would-be mermaids. "That's when I would whip out my tail [and] be like, 'Are you kidding me? I'm a mermaid! Come on, let's do this!' It's very nice to see people step out of their comfort zone and not let their body type restrict whatever they want to do."
It's an idea that Anthony echoes. Why would anyone want to be a mermaid if not for the sense of freedom that comes with it?
"It's something you can't understand how just being in a mermaid tail can do it," she says of watching her students' journeys. "Yourself, your body, what you think of yourself, how you view yourself, becoming connected to the water. For most people, it's such a new exploration and it can be an uncomfortable one. But watching it blossom, some really beautiful stuff can come out of it that empowers people to feel comfortable in their own skin, to as feel beautiful as they are, and to feel like they belong out here in the big blue."
It's a sentiment I can confirm. After a week of adventures which also included instruction on two-legged freediving and photoshoots — both sanctioned and for fun — it almost felt weirder to swim without my tail than with it. But by removing myself from my life as an often self-critical land dweller, I was able to laugh off mistakes, explore my curiosity, and yes, feel transformed by more than just a deepening tan. It's called play, and mermaiding is an excellent excuse to do more of it. So, go ahead — throw on a tail, and blow off some steam by blowing some bubbles.