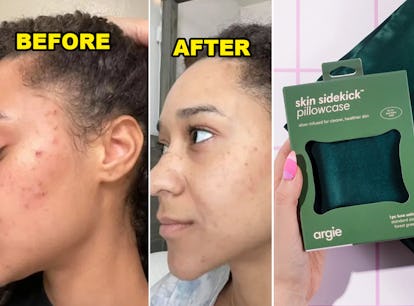 This Clinically Tested Vegan Pillowcase Is Designed To Help With Acne — Here's How It Works
It comes in 12 fun colors.
We may receive a portion of sales if you purchase a product through a link in this article.
Your skin-care routine can make a big difference if you ever struggle with breakouts, but did you know that your pillowcase can too? Bacteria and dirt can quickly build up on your pillowcase which can then be transferred to your skin at night. To battle this blemish-causing bacteria, a brand called Argie (formerly known as Silvi) has developed a satin pillowcase infused with silver, which has been shown to have antimicrobial properties that may eliminate germs and promote clearer skin — and the technology is clinically tested to eliminate 99.7% of acne-causing bacteria.
Argie's new vegan Skin Sidekick satin pillowcase comes with the same antimicrobial technology as the brand's cult-favorite but pricier silk version ($59) but with a lower price tag ($39). And according to the brand's clinical studies, it can eliminate up to 99.7% of acne-causing bacteria. The smooth material is also breathable, hypoallergenic, and less absorbent than cotton and can be washed every 10 to 14 days, instead of once a week as commonly recommended for bedding. When it's time for cleaning, you can toss just it into the washing machine.
The silver-infused pillowcase promotes clearer skin within 30 days, according to the brand, and it's good for all skin types. And if you're skeptical about the benefits of sleeping on silver, Argie offers a 100-night trial with a full refund if you're not happy. Choose from a dozen colors and patterns such as sugar cookie, sky blue, and tie-dye.
Additional Benefits
In addition to the antibacterial properties of the pillowcase, sleeping on smooth satin or silk may also help your skin retain moisture and prevent you from waking up with temporary pillow creases on your face. Smooth pillowcases can also help reduce the redness and irritation associated with acne.
Satin and silk pillowcases have also been revered for their hair-loving benefits, since the decreased friction may help reduce breakage, tangles, and frizz. And if you're hoping to get a second day out of your hairstyle, silky pillowcases can help preserve curls or perfectly straightened locks.
One thing to keep in mind: While the pillowcase is durable and fray-resistant, its antimicrobial properties will fade eventually. The silver treatment in the fabric is at maximum effectiveness for the first 18 months, according to the brand, and it gradually declines after that.
This article was originally published on