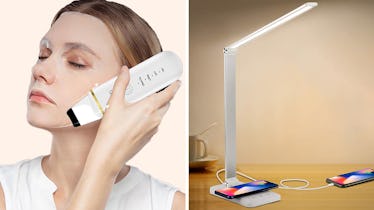 Amazon Keeps Selling Out Of These 60 Clever Gifts That Are So Damn Cheap
Snag these gifts for your friends and family.
We may receive a portion of sales if you purchase a product through a link in this article.
There's usually a reason — or, let's be honest, a bunch of reasons — why Amazon sells out of a product. Maybe it's super clever and customers can't get enough of it, or maybe it's available for an affordable price that's hard to pass up. Either way, you can usually assume it's a great item that's worth the restock wait. This list is full of those kinds of things, and you'll want to buy them for yourself or someone else ASAP.
Here, you'll find a range of self-care products that'll catch the eye of anyone looking to have a bit of pampering and at-home relaxation; think along the lines of deep-cleansing face masks, exfoliating scrubs and brushes, and styling tools for hair and makeup. There's even a mug warmer for anyone who loves coffee or tea, a foldable makeup mirror for anyone who's always on the go, and a soy wax candle that's good for 80 hours of use. (Bonus: You can add a personalized message if you're gifting it to someone else.)
See what I mean? Everything included is seriously clever and affordable, giving you the perfect opportunity to buy something for yourself or a friend. And thanks to Amazon Prime, shipping shouldn't take too long.
This article was originally published on