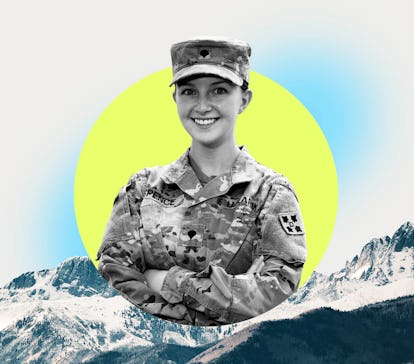 A Former Miss Colorado On Redefining Her Mind-Body Connection In The US Army
How the Army helped one soldier champion causes she cares about while learning about herself in the process.
When Specialist Maura Spence-Carroll, an intelligence analyst, first enlisted in the United States Army, she had her own expectations about what the military experience would be like.
"I thought that I was going to be surrounded by a bunch of big, scary people who wouldn't want to help me, [who] would make fun of me, and [who] wouldn't appreciate what I brought to the team," Spc. Spence-Carroll admits. Fortunately for Spc. Spence-Carroll, her preconceptions couldn't have been further from the truth. "[In reality], they're 100% ready to support you in any goals."
The care and support from her fellow soldiers wasn't the only surprise in store for Spc. Spence-Carroll. In 2021, she competed for Miss America after being the first active-duty soldier to win the Miss Colorado competition. Today, as a Reserve soldier and a former pageant title holder, Spc. Spence-Carroll has a unique platform to advocate for mental health care and holistic health support.
Spc. Spence-Carroll's interest in mental health reform came from a very personal place. She credits the Army with helping her address long-undiagnosed ADHD, which — until recently — acted as an obstacle to many of her personal goals. "The first really big step I had for myself in listening to my mind when it came to holistic wellness was in getting my ADHD diagnosis," she explains.
Fortunately for Spc. Spence-Carroll, the Army's behavioral health team was eager to help her develop a treatment plan. Spc. Spence-Carroll credits the care she received with helping her to achieve her goals, both as a pageant competitor and as a soldier. "If it wasn't for the fact that I had a support system that I knew would catch me if I was falling, I don't think I would've been able to take those big leaps to say, 'Wait a minute, I need to slow down and check myself,'" she says.
"People assume that the Army doesn't care about you, so they don't want you to succeed," Spc. Spence-Carroll adds. She credits the support from Army leadership with helping her to achieve her dream of going to the Miss America competition. "The reality is that we have to balance technical and tactical proficiency and mission readiness with soldiers' welfare," Spc. Spence-Carroll says. "It's a very delicate balancing act."
As a pageant winner, Spc. Spence-Carroll embraced a nontraditional path to becoming Miss Colorado, balancing her Army career with the demands of the competition. And although she gave up her title earlier this year, she says that her platform for advocacy is now stronger than ever before, something she learned after being recognized at an annual training.
"I ran into a Sergeant First Class whom I had never met before," Spc. Spence-Carroll says. "He went, 'I feel like I know you from somewhere.'" Toward the end of their conversation, Spc. Spence-Carroll eventually mentioned that she had been Miss Colorado. "That opened up a whole other conversation about mental health [in the Army and across the country]," she remembers. It wasn't until days after their encounter that Spc. Spence-Carroll realized the impact made possible by her unique background and platform. "I still have this voice," she says.
"I STILL HAVE THIS VOICE."
Spc. Spence-Carroll plans to go to law school after finishing her bachelor's degree. To date, her main advocacy goal is suicide prevention. "The most important aspect of this uphill battle with suicide prevention and mental health awareness is not just showing people that they have a community, but connecting them to that community," she explains. "There are resources out there."
Talking with Spc. Spence-Carroll, her gratitude is contagious. Through her time serving in the U.S. Army, Spc. Spence-Carroll was connected to mental health resources she otherwise wouldn't have known about, and she says she looks forward to seeing the long-term returns of the Army's investment in herself. "Especially before my diagnosis with ADHD, I thought that I was a lazy person," she says. "Joining the Army, seeing that I could work hard, and being recognized for the fact that I was a hard worker and that I was good at my job was the first time that I ever felt pride in the person that I am and the things that I can put forward."