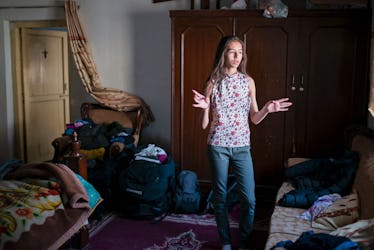 Here's What ~Decluttering Your Life~ Really Means & How To Do It, According To Experts
Add "decluttering" to your list of trendy vernacular, friends, because Marie Kondo has sparked a major phenomenon that's literally sweeping the masses. Tossing items from your closet that don't immediately spark joy is basically Kondo's way of encouraging you to practice what was once referred to as "spring cleaning" year-round, rather than just once a year. Of course, getting your sh*t together by finding ways to declutter your life and eliminate the excessive junk weighing you down isn't exactly a new concept, but it's definitely one you could benefit from, and what better time than the present to give it a try?
Ironically enough, I'm the queen of hoarding, but I also find so much satisfaction in throwing things away and organizing the crap out of, well, the crap I keep in my apartment. I've always enjoyed tidying up, but it wasn't until my husband expressed an interest in minimalism and in scaling back on our possessions based on which things truly had value to us and served a purpose in our lives, that I could let go of clutter. I mean, I loved clutter. I essentially collected it. Clutter is called clutter for a reason, though: It's litter, it's a mess, and it needs to be cleaned up.
But here's a plot twist for you: While "clutter" implies "untidy," and "untidy" is typically associated with objects, Susan Petang, a certified stress management and transformational life coach and author of the book The Quiet Zone, tells Elite Daily that your mind can become cluttered, too. "A disorganized mish-mosh of tasks to be remembered, thoughts about past events creeping in, [and] worry about things in the future that haven't happened yet, or may never happen," can all contribute to a cluttered brain, Petang says. So when you approach "spring cleaning," no matter what time of year it is, organizing your mental space is just as important as decluttering your physical space.
Just in case the extent of your decluttering typically stops after your closet's been color-coded, here are a few expert tips to declutter your life just in time for spring, and every season thereafter.