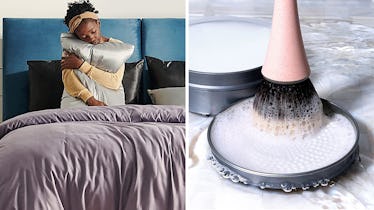 61 Things Under $15 On Amazon That Are Legitimately Amazing
A wallet that attaches to your phone? That's pretty cool.
We may receive a portion of sales if you purchase a product through a link in this article.
As someone on a budget, I'm always trying to get the most bang for my buck. If I can find an affordable alternative to high-end products, I'm on it, which is why I love perusing Amazon. When you're shopping there, a little goes a long way, and the things under $15 on Amazon you can find aren't just cheap — they're legitimately pretty amazing, too.
From fitness trackers to facial cleansing brushes, the kind of stuff you can buy online when you're trying to make each dollar count can be surprisingly high-quality and built to last. All it takes is a little sleuthing around, which is one of the reasons why I put together this list of the best budget products to buy for just under $15.
These are items offer the same incredible benefits of more expensive items, but at a fraction of the cost, or they're just cool gadgets that solve a problem you never thought you'd solve. Plus, with all that extra cash left over, you can afford to buy a few, or sign up for a Prime membership so you can also get everything shipped to you at lightning speed — meaning you can start experiencing their life-altering awesomeness ASAP.
This article was originally published on