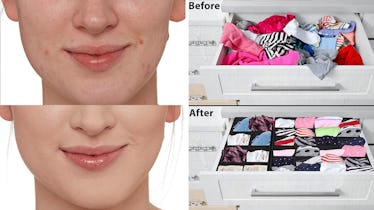 50 Life-Changing Products On Amazon That Work So Well Reviewers Say They Deserve 6 Stars
From a desk footrest to a drink caddy for your couch, these things are receiving high praise from shoppers.
We may receive a portion of sales if you purchase a product through a link in this article.
I love reading searingly honest product reviews. I know that sounds odd, but there's something gratifying when someone just tells it like it is, especially when they're talking passionately about salad spinners. (I mean, really? You wrote five paragraphs about a salad spinner? The dedication!) Of course, I most enjoy reading about the ones that really work — like these life-changing products on Amazon that reviewers say deserve six stars.
Okay, okay — I realize the phrase "life-changing" sets a pretty high standard. I mean, can a foam footrest that fits under your desk really change your life? The answer is yes, absolutely. Especially if it takes the strain off your back so that you can finally get through a workday without looking up local massage deals.
Or my personal favorite life-changer — a drink caddy that fits on your couch and enables your laziness. You can sip on that La Croix without having to reach all the way over to the coffee table. (It just seems so far away sometimes!)
And all these products work really well, which is exactly why Amazon should consider giving reviewers the option of rating these outstanding products six stars instead of just five.
This article was originally published on