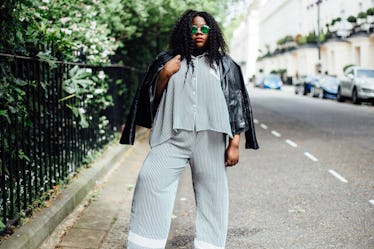 These Plus-Size Fashion Influencers Will Take Your Fall Fashion To New Heights
When it comes to finding fall fashion inspiration as a plus-size woman or femme, mainstream media very rarely has our backs. (The same is true at any time of year, actually.) Trend reports often focus on the best places to shop "it" looks, so long as you're thin. With the exception of one or two notably inclusive runway shows per season, fashion weeks do little to show us what certain styles might look like on visibly fat bodies. Hitting up the local mall in the hopes of walking out with something chic when you're above a size 16 remains pretty unlikely, too.
Thankfully, the social media age has brought us countless plus-size influencers who create their own content. They encourage us to experiment with our styles, teach us where to shop brilliant looks in size fat, and help us remember our worth in a world that far too often tries to tell us we have none. Oftentimes, they do this by putting together ensembles that many of us have been conditioned to believe are "off limits" for people of size; ensembles we're told couldn't possibly "flatter" large bodies.
In truth, many sartorial lovers turn to clothing as a means of self-expression — but when you exist in a plus-size figure, the majority of the mainstream fashion industry suggests (through its lack of inclusive designs and disregard for the majority of women) that you don't deserve that form of self-expression. The below 37 influencers prove that this couldn't be further from the truth. Let their words and #OOTDs inspire you this season and beyond.