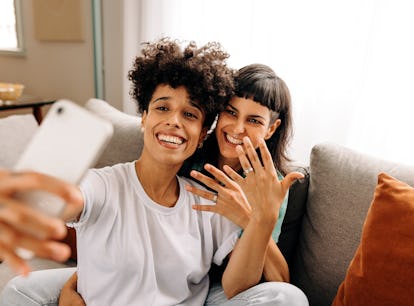 Breaking Down The Latest Engagement Trends
Maybe diamonds aren't forever.
JLco Julia Amaral/Shutterstock
Today's couples aren't interested in paint-by-numbers proposals and engagements, according to a new OnePoll survey conducted on behalf of Minted. While some traditions remain — like asking for a parent's blessing, getting down on one knee, and succumbing to the romance of the holiday season — others are being tossed aside in favor of more personalized, unique touches. Those include non-traditional rings and intimate, surprise proposals. Overall, people seem to want their proposals to make them feel like one in a million — just the way you do when you finally find your person.
Ahead, we're taking a look at the latest trends for couples ready to commit.