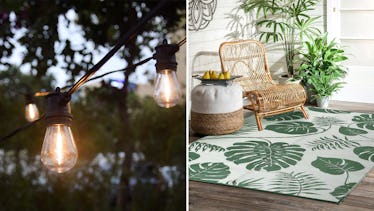 20 Items That'll Turn Your Backyard Into A Tropical Paradise
Feel like you're on vacation in your own home.
When you can't afford a vacation (or take time off of work), the next best thing is a staycation, or spending time in a little place at home that's dedicated entirely to rest and relaxation. And there's no better place to "escape" to than your own backyard — especially with the right decor and accessories set up. It's easier (and less expensive) than you think to turn your backyard into a tropical paradise; you just have to think outside the box a little. If you close your eyes while lounging in the perfect backyard lounge chair under the perfect umbrella, you just might feel like you've been whisked off to the beach oasis of your dreams.
Instead of wasting money on airfare and spending a full day of your vacation waiting around for transportation, get directly to your summer fun by logging off of your computer, silencing calls, and stepping right outside into your own backyard. I've helped to take the guesswork out of building your own backyard oasis with this roundup of 20 items from Amazon that'll completely transform your backyard space into a tropical paradise. From bar carts to sunscreen stations to palm trees, here are a few ideas to get you started.
We at Elite Daily only include products that have been independently selected by our editors. We may receive a portion of sales if you purchase a product through a link in this article.