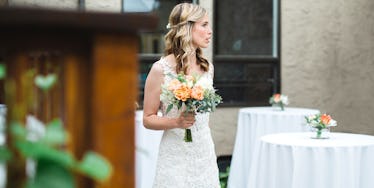 Why You Should Stop Judging Yourself
Stocksy
When you meet someone new, the first thing you do is judge them — if they're a man. If it's a woman, you first scan her over from head to toe and then you judge her. Unless you are a woman yourself, of course. Then for some reason I get a feeling that you don't bother to discriminate; you judge both equally. We are always told not to judge people for their actions or a book by its cover. Or at least we used to be told that when younger. Maybe it's because we no longer hear it often enough to remind us that passing judgment is bad, that as adults we do it as often as we do.
Well, to be quite honest, I am not actually thinking about the judgment that we pass on others — that's completely fine. Passing judgment on others is a survival instinct. As long as you are able to keep an open mind and reassess your judgment later on, then judge away. What concerns me more is that we have a nasty tendency of judging ourselves and our very own actions. It's fine to judge others because they don't hear your judgment. They probably know that you are judging them because they themselves are judging you, but they can't hear the assessment. However, when you judge yourself, you hear every negative thought and you feel every negative feeling that you are feeling, all directed at yourself.
We judge ourselves constantly. Take your appearance for example. If you are not in perfect shape or you don't love the way that you look, you are likely to pass some sort of judgment on yourself. You sure you don't need a haircut? It does look like you may have gained a few pounds. And you were definitely right, your outfit belongs in the trash.
Sound familiar? If not, then good on ya. Then how about your actions? Whenever you do something that you know you should not be doing — something that you believe goes against the character of the person that you want to be — you judge your actions.
Staying up late doing something that isn't worth doing and missing out on the sleep you need will often lead to hating yourself the next morning. Drinking more than you should be drinking tends to lead to the same end. Eating that third scoop of ice cream. Sleeping with that guy you know will break your heart. Slacking at work or at the gym.
Being lazy or staying in your comfort zone. Sleeping with that girl with pierced nipples and ink covering most of her body… All things that you shouldn't do and are likely to judge yourself on the basis of, either during the event or after the fact. Except maybe that last one. That one's rather fun.
These judgments may seem small and insignificant — and that's because they are. On their own, they won't have much effect on you. Unfortunately, because we make these small judgments so often — literally every hour of every day — the continuous stream of negativity that they bring about dampens our mood and gives our ego an elbow to the face.
We hit ourselves repeatedly with these judgments until we actually begin to bruise and we begin to think less of ourselves. We begin to question our own abilities and begin to question our decisions and our ability to make them. It seems that it is not enough that the world is as hard as it is on us; we need to help beat ourselves down. We become the creators of our own insecurities.
Insecurities are the worst of the worst. Not only do they prohibit you from putting yourself out there and erase the possibility of success to take seed, they make you feel like shit. They make you hate yourself and your ways. Even if something really is wrong with you — which there most likely is not — there is something that you can do it about. You can decide to change and make the effort to do so. If you really are bothered by an aspect of your persona or physical appearance, then change that aspect; it's in your power.
If you do things that you wish you had the willpower not to do, then stop doing them. It really is that simple. If you decide not to do something and tell yourselves continuously throughout every day that you will not do it, then eventually you will begin to listen to yourself. The same goes for when you want to force yourself to do things -- we must discuss it with ourselves.
The reason that we slip up as often as we do is because we fail to continue this internal dialogue. We allow our inner voice to go silent and we fail to remind ourselves that we don't actually want to do what we have an urge to do at this exact moment. Instead, we judge our failure in order to control our actions and label ourselves as weak. We give up.