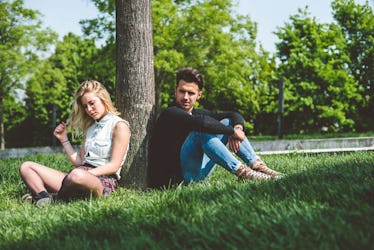 Everyone Dies But Not Everyone Lives: Stop Worrying And Start Living
When you are middle aged, do you want to look back on your life and think about all of the 'what ifs'? Of course you don't. You want to look back and think of all of the ridiculous, yet wonderful experiences you have had over the course of time. Sometimes in life, we just have to say f*ck it and do it for the story. Sure, maybe that seems impulsive or rash, but honestly what's the point of living if you're not going to make it a memorable experience?
We worry ourselves constantly over things that don't matter. Everybody dies, but not everybody lives -- stop worrying about stupid sh*t, have fun and do you. Worry about not making the most out of your time while you are still able to. You will never be younger than you are today, so take advantage of this amazing time in your life and make the most of it.
"Our notions about happiness entrap us. We forget that they are just ideas. Our idea of happiness can prevent us from actually being happy. We fail to see the opportunity for jay that is right in front of us when we are caught in a belief that happiness should take a particular form."
Work to live, don't live to work; find a career you are passionate about, one that motivates you to wake up every morning. Life is too short to spend 8 hours a day, 5 days a week doing something you detest. Don't think this is a reality? You couldn't be further from the truth. You must be proactive -- don't make the mistake of sitting around on your ass and expecting results to come to you. If you work hard in every aspect of your life, you will astonish yourself with the results.
Make time for your family and your friends, this is your support system. These are the people who want the best for you. Appreciate them for all they are worth and spend as much time as possible with them.
"Your time is limited, don't waste it living someone else's life. Don't be trapped by dogma, which is living the result of other people's thinking. Don't let the noise of other's opinion drown your own inner voice. And most important, have the courage to follow your heart and intuition, they somehow already know what you truly want to become. Everything else is secondary." –Steve Jobs
Life is about having experiences and stories to tell. We see other people doing things and want to know how similar experiences will feel. Life is too short to say, "I wonder how that would've felt." Focus on the 'what' instead of the 'how'; realize what you want out of life and go do all you can to make it your reality. Stay positive and you will attract optimistic results.
Don't waste time being shy. Put yourself out there and open yourself up to new experiences. There is virtually no reason to be shy as everyone has something to offer in the world. Connect with people any chance you get and widen your social circle.
"Existing is going through the motions of life with no zeal and feeling you have no control; living means embracing all that this large world has to offer and not being afraid to take chances. The beauty of living is knowing you can always start over and there's always a chance for something better."
Life is moving at rapid speeds, so you need to appreciate and embrace every moment you are lucky enough to have. We've already been alive for around two decades. Think about how much time has already passed. Every day presents new opportunities for greatness and memories. Sometimes you only have one chance and once that has passed there's no going back. This is why it is crucial to take advantage of every opportunity you have.
Each day presents us with new and different prospects, ones that must be wholeheartedly embraced. Just because you may have had a bad day or week, remember the previous statement. Do not let one bad moment or series of bad moments affect your future. Learn to make peace with these negative experiences and use them to motivate you to only do better.
Photo courtesy Flickr