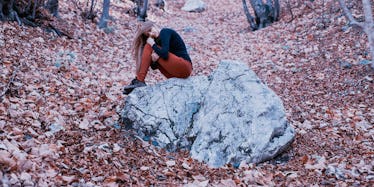 The First Step To Healing Is Opening Yourself Up And Letting It All Out
Stocksy
"So, tell me about it all," he said.
That was the moment it all changed, with one simple question that summer afternoon.
I felt something inside me push to say something generic, to repeat once again the formulaic, habitual response that had been generated to fend off unwanted questions -- that which I had become so accustomed to answering to anyone who had taken the time to ask how I was feeling.
This time was different, however, for I had already bared my soul to him in a letter four days earlier. This was the moment. I had to let down the façade; I had to release the emotion and be honest about just how bad my situation had become. And so, I tried.
The day of my father's passing sticks with me each and every day. I can recall it with precise accuracy as if it were yesterday. I remember the smell. I remember our final words together. I remember the feeling of his loosening grip, day by day, of his hand on mine as his body weakened and the cancer started to take over.
Most of all, I remember the vicar's reaction as my old man took his last desperate breath before leaving us all for pastures anew. Over two years have come and gone since that day, during which I have graduated from university and written my first published book.
But only through talking about the pain and suffering have I finally taken my first steps towards finding happiness and contentment in this life once again.
Tragedy is a funny thing. It's so overwhelmingly powerful; it leads some people to cry for days and even weeks. That's the common reaction to death.
Me? I locked it all away. I turned my back on my teary-eyed family, all of whom were desperately calling for a shoulder to cry on as they rode out the emotional roller coaster of dealing with a lost loved one. I wanted to join them, I really did, but I just didn't know how.
I had a degree to complete from home and any vulnerability would have thrown my progress off course. I just had to stay strong for the moment, I told myself, and then I could deal with my grief. I kept myself busy by organizing events, playing sports, studying -- anything to escape the tragic reality of my life.
Although I recognized the gravity of the events that had befallen me and my family, I believed -- and hoped -- that the storm would eventually come to pass. But I was wrong.
To say the last two years have been difficult doesn't quite paint the full picture. Doubts, fears and insecurities -- common amongst even the most self-confident of adolescents -- were made all the more severe without the regular stabilities of home.
"How are you doing," I was asked, "Are you ok?" The truth is, I thought I was. I wanted to believe so much that everything was fine that I fooled myself into thinking it was.
Keeping myself busy was the only way of silencing those distant voices in my head telling me that something was severely wrong. Eventually those voices grew louder; they became more expressive, more profound and so deeply entrenched in my inner psyche that I couldn't ignore them any longer.
To the world I was this happy-go-lucky teenager with a wonderful career, but deep down I had this ever-growing pressure inside me that was eventually going to burst.
Still, I hid the pain and portrayed a man of few concerns. Eventually, I opened up to my family who, having all been down the same road themselves, welcomed my vulnerability with open arms. It was as if they were waiting for me to open up, admit defeat and reach out for the help that they were ready to offer.
Even then I sugar-coated the truth and painted a glorified picture of the situation in their minds. I held the door ajar for them to witness the pain, but wouldn't let them in quite far enough to help. I was still too proud and too afraid to openly admit that, at times, I was contemplating joining my father.
I have never been able to verbally express myself clearly. I speak too fast. I slur my words. I mumble.
And so, I returned home and wrote a heartfelt letter addressed to two of my two closest friends. With each world I scribbled, I felt that unnerving pressure -- a wicked concoction of guilt, regret and self-loathing -- release from deep inside of me.
The words poured out, two years worth of pain and suffering showcased in one complete document. Profound, honest and open in nature, the words came with a sense of wondrous ease, perhaps motivated by a deep desire within to finally share the burden with those who had always been willing to help.
That, right there, changed it all. Discussing the pain was incredibly soothing and for the first time in years, I felt security and stability. I felt rid of the doubts and insecurities that come with experiencing a tragedy.
Now, I continue to feel the pressure release from within as I get closer and closer to the happy-go-lucky teenager I was once was: the one without a care in the world, who could light up a room with a careful balance of charm and enthusiasm.
I simply could not continue this journey without those who supported me, and for that, I will remain thankful forever.
We can all learn from my story. Tragedy is a part of life and some day, somehow, it will happen to get each and every one of us. When that day comes, it is important to reach out to those around you -- be it two or three friends -- who can guide you along the deep and dark pathway that lays ahead.
Remember, your close friends and family are there to help and to guide, and, believe me, if they are worthy of such a label, they will want to offer a shoulder to cry on and an ear to listen -- whenever and wherever they are needed.
For many of you fortunate readers yet to be faced with life-altering circumstances, this may very well not be applicable to you now, but I advise you to remember it's simply not possible to fight these battles alone.
Photo via We Heart It