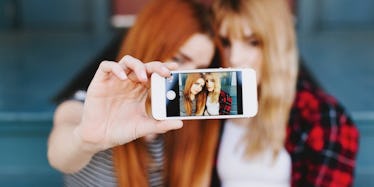 The 5 Celeb-Approved Ways To Make Sure You Look Your Best In Every Picture You Take
Photos are a tool to express ourselves, tell stories about our lives and even represent ourselves professionally.
Naturally, we want to look our best in photos, especially when we'll be posting them on social media for the world to see.
No matter your weight, height or shape, looking better in photos boils down to a few basic tactics that anyone can master in minutes.
Here are five tips, practiced by models, celebs and Instagram stars, that will make your selfies and profile pictures the best they can be.
Strike a flattering pose.
To make your body and face look their best, make sure to stick out your chin to avoid the dreaded double chin. Elongating your neck makes you look more elegant.
Twist your torso so your waist appears thinner. Facing the camera head on makes you look wider, so put one foot directly in front of the other or cross your ankles to continue the line of your body. Models and celebs swear by this trick.
Lift your arms from your body to avoid the "squished" upper arm bulge. Place your hands on your hips for a natural pose. But if that feels forced, try shrugging your shoulders slightly so your arms separate from your torso.
Again, when a photo is taken straight on, the subject appears wider, so try tilting your face up or to the side slightly, and play around with different angles until you find one that makes your features look amazing.
Stand up straight, and contract your pelvic muscles to suck in your belly. Practicing good posture can make you look more confident and toned in seconds.
Make the right makeup choices.
Applying makeup correctly can take your pictures from so-so to fabulous.
Stay on top of current makeup trends, and play with new products, colors and application techniques. If experimentation isn't your thing, go with a classic look and choose one feature to play up, like your eyes or lips.
Apply shine-reducing powder before you pose for any pictures — especially if you know you'll be using a flash.
Also, place highlighting powder strategically to draw light to the right points of your face, like the inner corners of your eyes, the bridge of your nose, the bow of your upper lip and the tops of your cheekbones.
Use black eyeliner and mascara for a more dramatic color contrast, and try using bronzer, blush and lipstick to accent your bone structure.
Choose clothing wisely.
Choosing the right clothing for your photo op can truly make you appear 10 pounds thinner.
Accentuate your waist by wearing an A-line dress or a cinching belt. Or if you're insecure about your tummy, choose a garment that gathers just above your waist to elongate your mid section.
Avoid too-tight, clingy materials and don't be afraid of wearing structural undergarments to tighten up your body a little. Spanx are your friend!
In terms of color, try choosing darker colors, which make you look thinner in pictures, and avoid large prints. If you want to wear a print, choose a smaller one and break it up with solid colors.
Avoid all-over loose garments. It's tempting to try to hide the features you're insecure about, but choosing a mix of form-fitting and looser pieces can make you look great. Pair a flowy, silk shirt with a pencil skirt, or wear a structured, bulkier jacket with skinny jeans.
Wear heels to give you some height. If you'll be sporting a dress, try the trick of wearing heels that match your skin tone to make your legs look leaner and longer.
Be prepared.
If you know you'll be getting your picture taken, make sure to avoid eating too much salt, drinking alcoholic beverages or binging on sugary foods a few days before you have your photo shoot.
Drink loads of water, as it will plump up your skin and hair, make you look younger and keep you from bloating.
Get plenty of sleep the night before your photo op, and apply a high-quality facial oil to rehydrate your skin, especially to the delicate areas around your eyes and mouth.
Embrace photo editing.
Sometimes, no matter what you do, you can't capture the perfect photo. But not to worry; there are plenty of awesome photo editing apps out there that can take a not-so-great photo and tweak it into a profile pic.
While professional photographers are skilled at using programs like Photoshop and Lightroom to edit their photos, everyday people can also use apps like YouCam MakeUp and Airbrush Selfie Editor can remove red eye, shave off a few pounds, even your skin tone, eliminate blemishes and soften wrinkles.
Just remember not to go too crazy. Your natural beauty should always shine through in your photos, and making your pics look too perfect is a dead giveaway that they've been altered.
It's OK to make a few minor adjustments, but make sure you still look like yourself!
We all want to look our best in photos, and doing so can be as easy as understanding the angles, proportions and tricks of light that make a photo fabulous or cringe-worthy.