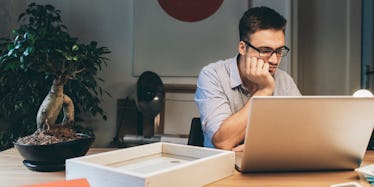 3 Tips To Abandon Your Control-Freak Tendencies And Go With The Flow
Stocksy
You know those random, uncontrollable moments that cause you to immediately panic or feel completely lost?
For instance, when you receive an unexpected phone call from an ex, or you run into an old high school friend you'd seriously like to avoid.
We've all been there. You think, "Why me!" You freeze, wide-eyed, confused, somewhat composed on the outside, but panicking on the inside.
Even if you're alone, you quickly look around as if to ask someone else, "Fight or flight?" That's life. Sometimes, unexplainable weird or arduous events just happen.
You catch your girlfriend cheating. You're on your way to work and have a wreck. You just bought your favorite coffee, then you bump into a stranger and it knocks straight out of your hands.
You're suddenly fired from your dream job, a position you've held for seven years. Or, in the extreme case, your mom calls you to let you know a close family member passed away.
Depending on your individual personality and coping skills, a small occurrence, like a spilled coffee or a fender bender can feel just as distressing as receiving the worst phone call of your life from your mother.
Recently, I experienced a high-anxiety moment, but one I found to be much more upsetting than the usual, everyday life mishap.
While sitting in the doctor's office for my yearly check-up, the nurse walked in too calmly and far too casually to inform me, "You're four weeks pregnant."
And, just like that, my life changed. An unplanned pregnancy? Okay, it happens. I can do this.
However, the overwhelmed control freak in me immediately began to dissect my career, my future, my boyfriend, my body, what our families would think, and whether this one moment would shift my entire life plan.
Panic set in and I was frozen like a mannequin. The inconvenient fear and lack of stability gave me extreme anxiety.
Some people may not be able to relate, but many men and women are familiar with the heart-stopping fear that ensues after they receive their girlfriends', one-night stands' or exes' unanticipated surprise of, "I'm pregnant!"
For most of us, this is a make-or-break moment when you're either liberated by freely living the ideal of embracing the unknown or you become a depressed victim, wanting to control every aspect of your life.
Now, at five months pregnant, my world didn't end and I've come to terms with releasing the need to control the inevitable, yet unforeseen, happenings in life.
I've accepted my pregnancy and after the initial shock wore off, I dove straight into the unknown, happily embracing maternity.
Nonetheless, we're all guilty of trying to control some, if not all, aspects of our lives.
We need to know what's going to happen next. We need to plan out each step, each possible detour. This fear-based pattern stems from desiring stability, security and predictability.
When we're faced with survival issues, like unexpected emergencies, earning a living, balancing relationships, becoming a parent or taking care of health-related obligations, being in control creates the illusion of security.
But, nothing is ever set in stone and rarely do things go perfectly as planned. In many ways, being a control freak is nothing more than an unhealthy coping mechanism.
So, what do we do? It's necessary to look beyond keeping up appearances and recognize life happens at its own speed. We must ride the tides and waves while remaining rooted in the truth that we can't avoid pain or chaos by trying to control every moment.
Living authentically is more than just a passing trend and small behavioral shifts can transform you from a victim living in the illusion of invulnerability to a healthier, thriving individual.
Here are three ways to tame your mind in order to cope better with stressful, unexpected or traumatic situations.
As the saying goes, we may not be able to control the circumstance, but we can control the reaction.
1. Trust people
Stop nagging, stop assuming, stop analyzing or constantly questioning everything. These personal doubts stem from insecurity and fear of the unknown.
You won't always receive that desired response you expect, and no matter what you do, you can't control someone else's behavior. So, be okay with things sometimes not being okay and learn to accept without expectation.
Through sincerely trusting others, you will begin to trust yourself.
"The best way to find out if you can trust somebody is to trust them." ― Ernest Hemingway
2. Instead of control counseling, be an encourager
Why are you trying to manipulate another's behavior to fit what best suits your needs? These are times when you've asked a question and then try to guide the answer you desire from the person you asked. This is skillfully selfish and unfairly controlling.
Release this self-seeking desire to try to regulate every event, task or decision. Instead, become a shoulder to cry on or a listening ear.
This is genuine encouragement, being supportive, understanding within boundaries and recognizing other people's life choices are not yours to dictate.
"Listen to the mustn'ts, child. Listen to the don'ts. Listen to the shouldn'ts, the impossibles, the won'ts. Listen to the never haves, then listen close to me... Anything can happen, child. Anything can be." ― Shel Silverstein
3. Shift your perspective
Replace one thought with another. This is easier said than done, but often, when experiencing a moment of overwhelming frustration, fear or sadness, we unconsciously shift into control mode.
We quickly try to jump the hurdle or immediately fix what is taking place. Just stop. Give yourself a minute or two of reflection and allow this time to flow freely. Walk away, cry, breathe and wait before you react.
It takes effort to let go of an unrealistic attachment to a certain outcome, but give yourself permission to surrender to the experience.
What, at first, seemed impossible or terrifying could soon become the most rewarding or monumental time in your life.
Liberate yourself by controlling your response instead of consistently trying to control everything around you. Your reaction dictates the outcome.